Stem Cell Research Group
Dr. Kim oversees the efforts of the stem cell group, four scientists working to translate basic discoveries into a treatment for spinal cord injury. This work is in collaboration with Mr. Staman Ogilvie and supported by the Ogilvie Fund for Spinal Cord Injury, Recovery, Rehabilitation & Research. The goal of this project is to design new therapies to improve motor function of those paralyzed by spinal cord injury by the end of the decade. Each scientist in the group was specifically recruited to work together with complementary skill sets to develop therapeutic stem cells that can be tested in clinical trials.
In the Cao Laboratory, Dr. Quilin Cao and his team are working to design stem and progenitor cell transplantation strategies to enhance functional recovery follow spinal cord injuries, stroke, and other neurological conditions. By examining the mechanisms governing the growth and differentiation of neural stem cells, the Cao laboratory seeks to develop ways in which to create clinic-suitable neural stem and progenitor cells from the somatic (body) cells of the patients themselves.
Complementing these efforts is the research conducted in the Wu Laboratory, which utilizes genomics, proteomics, bioinformatics and functional assays to investigate gene transcription and those regulatory mechanisms governing stem cell differentiation. The Wu Lab is also researching the regulatory networks of hematopoietic precursor cell self-renewal and differentiation using multipotent EML (erythroid, myeloid, and lymphocytic) cells as a model system.
The primary focus of the Smith-Callahan Laboratory is to explore and evaluate different tissue engineering approaches to treating spinal cord injury, traumatic brain injury, and cartilage defects in a clinical setting. Their current projects specifically target improving the replication of the native extracellular matrix to facilitate tissue regeneration through the development of scaffolds; optimizing culture surfaces for the differentiation of human induced pluripotent stem cells to neural stem and oligodendrocyte progenitor cells; and synthesizing de novo biomaterials for spinal cord, brain, and vertebral disk repair.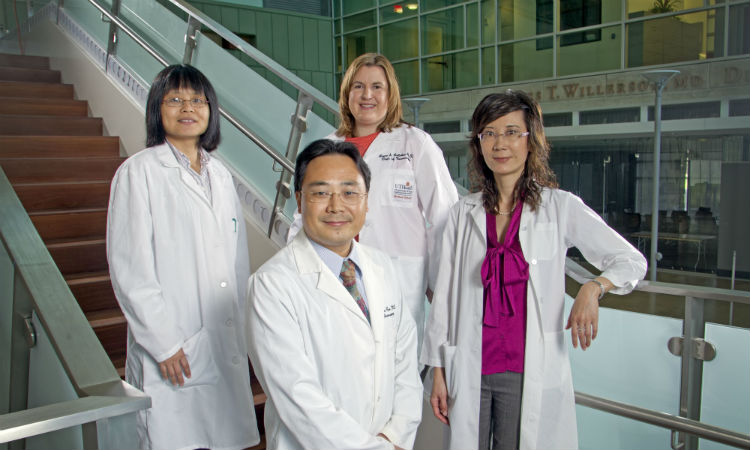 Finally, the Liu Laboratory examines the relationship between stem cell biology and regenerative medicine as well as the pathogenesis of neurodegenerative disease and injuries to the central nervous system. Via the use of combined genetic, molecular, and cellular biological approaches applied to in vitro and in vivo models, Dr. Liu and her team are able to dissect thedevelopmental pathways and the corresponding pathogenesis in the neural lineage for these conditions.
Dr. Kim was also the local Principal Investigator in the recently completed HuCNS-SC Transplantation in Cervical Spinal Cord Injury Study, enrolling patients in Houston. Sponsored by StemCells, Inc., this study utilized a human stem cell line isolated from brain tissue that is then expanded into a cell Bank for human CNS stem cells. Its goal was to determine how these cells may engraft, migrate, and differentiate in the contused spinal cord and promote functional recovery.