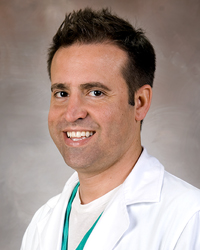 Rondel Albarado, MD, FACS
Associate Professor, Department of Surgery
Biography
Ice-hockey aficionado Rondel Albarado grew up in Lafayette and New Orleans, LA and his family is still all there. "There are a lot of Canadians in the oil industry, so as a result, there were eight minor-league hockey teams in New Orleans before Hurricane Katrina," he says.
Albarado got his undergraduate degree in chemical engineering at the University of Southern Louisiana and went to Louisiana State University – New Orleans for medical school. "All of my family were engineers, but I went on an eighth-grade field trip to the Texas Medical Center and got to see Dr. DeBakey in action at Methodist. Then I knew I wanted to be a doctor."
Albarado is not afraid of hard work. In fact, even though he had a full scholarship at USL as an undergrad, he held four jobs – everything from working in patent protection to officiating at ice hockey games around the country. Today, in his spare time, Albarado enjoys fishing, diving, swimming and sailing – anything related to "salt water and warmth", he says.
What's the best part of his job? "I'm an adrenaline junkie; I like thinking critically in a time-sensitive fashion. Everyone has to be in the zone."
Education
Medical School

Louisiana State University, 2003

Residency

Ochsner Clinic Foundation, 2008

Fellowship

University of Texas Health Science Center at Houston, 2009
Clinic Locations
UT Physicians Orthopedics Trauma Clinic
832-325-7125
6414 Fannin Street, Suite G.150
Houston, TX, 77030
Directions