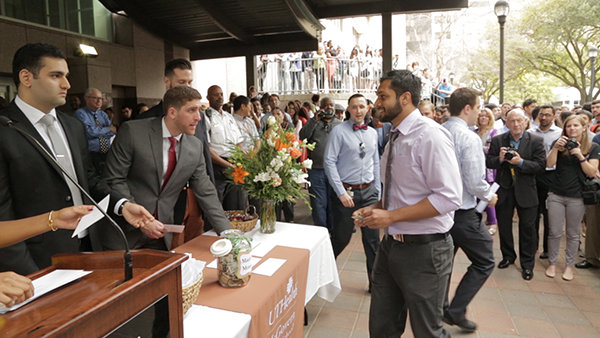 You may be wondering why you should choose McGovern Medical School. Here are some reasons why you should:
More than $200 million is provided in unsponsored charity care per year.
McGovern Medical School is the 7th largest medical school in the nation in enrollment and size of graduating class.
Memorial Hermann – Texas Medical Center is the busiest trauma center in the country, with LifeFlight as the busiest air ambulance service.
Our physicians are the team physicians for the Houston Texans, Houston Rockets, and University of Houston.
Our Surgical and Clinical Skills Center is the most comprehensive simulation facility in the country.
We are one of just seven institutions home to both the NIH Maternal Fetal Medicine and Neonatal Network grants.
Memorial Hermann TIRR has been named one of the top five rehabilitation hospitals for the past 21 years
McGovern Medical School was one of the first 8 schools to respond to the national physician shortage.
Our Graduate Medical Education program is one of the largest in the country.
5 million patients visit the Texas Medical Center each year.
The University of Texas M.D. Anderson Cancer Center is the #1 cancer hospital in the nation.
First robotic surgery in Texas was performed here.
The LCME, the accrediting authority for medical schools in the US, has commended the Medical School for its state-of-the-art technological infrastructure, outstanding faculty development, and student services and evaluation system. Most importantly, they said we have "an exemplary spirit of community with students who are very supportive of their peers."
The McGovern Medical School Willed Body Program offers services to educational institutions in the Houston/Gulf Coast Area.
The San Jose Clinic was one of the first clinics in the nation to serve the underserved.
The Memorial Hermann Medical Plaza building is 30 stories tall and has over 500,000 square feet.
First institutional ethics committee in Texas.
2nd in Texas for research grants per clinical faculty member.