Wise and Well Program

GOAL
To address resident well-being, assess its quality, identify potential factors associated with resident happiness/success, and combat burnout, depression, anxiety and social isolation related to ongoing pandemic.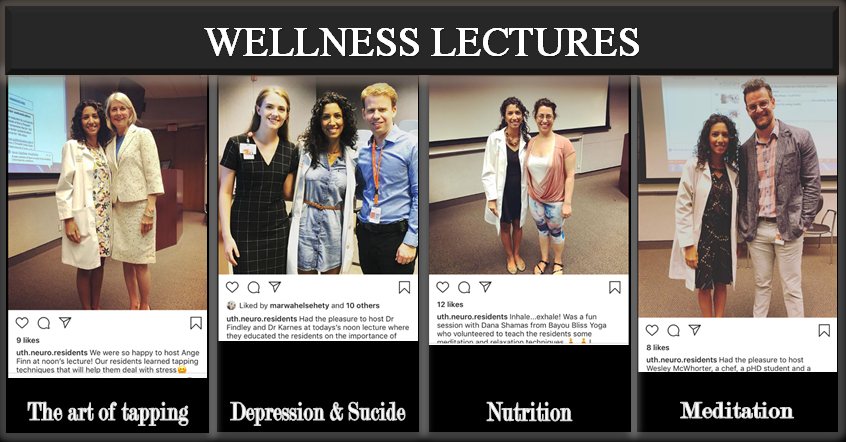 The Wise and Well Program
Resident well-being and resilience is a priority in our program. The goal of the Wise and Well program is to prevent resident burn-out and maintain their sense of well being, in order to help them become better doctors in the future. We focus on aspects such as burn-out assessment, promoting physical fitness, setting up wellness lectures, in-house get-togethers, and providing counseling services.
---
Burn Out Assessment
Targets PGY2s and above to assess their level of wellness and burn out. The survey's main elements include the Maslach burn out inventory which tests for emotional fatigue, personal fulfillment, and depersonalization. It also assesses the approaches used by the residents to make them feel well, and look for suggestions they would recommend to keep them healthy.
---
Physical Fitness Challenge
The goal of this program is to promote resilience, fight depression and enhance well-being. Interested faculty, fellows, residents and students are welcome to participate. At the end of the month, a prize is awarded to the winning team. We use a mobile app to track the steps of participants.
---
Wellness Lectures
A major goal in our program is to educate our residents on important matters such as healthy nutrition, coping strategies, meditation and breathing techniques, the importance of recognizing depression during training, and many more.
---
In-House Get Togethers
Residents get together once a month for fun and get to know each other on a more personal level. Lunch and games are usually provided along with neurology related movies and popcorn and celebration of all resident birthdays during the month.
---
Counseling Services
Counseling services are provided by the UTEAP (713-500-3327). Residents can reach out to counselors and share their issues and matters whether they are work or personally related. The first 5 sessions are offered free by UTH and all sessions are confidential.
---
SOCIAL MEDIA:
Facebook page: university of texas – neurology
Instagram page: @uth.neuro.residents