Wise and Well Program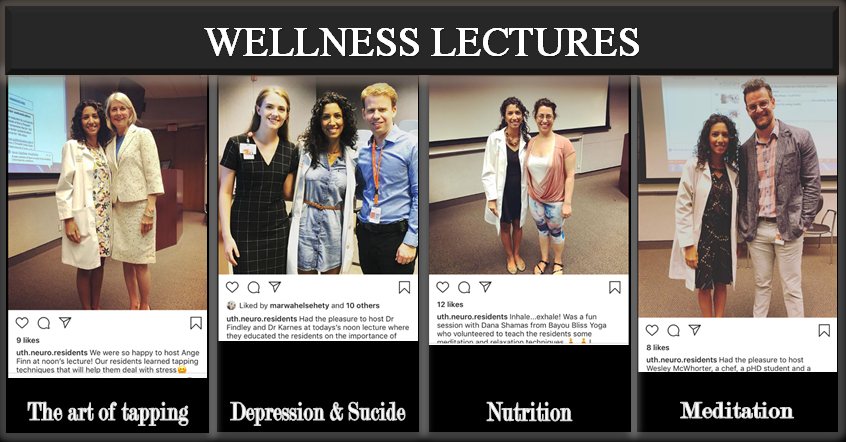 The Wise and Well Program
The UT Houston Neurology Wise and Well program was created in 2018 by one of our former chief residents Dr. Doha Ayish and has been a wonderful example within the university of promoting trainee well being. The goals of Wise and Well are to address resident well-being, assess its quality, identify potential factors associated with resident happiness/success, and combat burnout, depression, anxiety and social isolation related to the ongoing pandemic.
---
Wellness Lectures
A major goal in our program is to educate our residents on important matters such as healthy nutrition, coping strategies, meditation and breathing techniques, the importance of recognizing depression during training, and many more.
---
In-House Get-Togethers
Residents get together informally very often and quickly get to know each other starting from the PGY1 year. We also have scheduled wellness sessions every month during noon conference time where lunch is provided, we play games (sometimes neurology related!), and celebrate all resident birthdays during the month. We also try to have monthly happy hours as a way to get together and unwind in a non-work environment.
---
Physical Fitness Challenge
Our annual physical fitness challenge helps to promote resilience, fight depression and enhance well-being. Interested faculty, fellows, residents and students all participate together on teams. At the end of the month, a prize is awarded to the winning team.
---
Support and Counseling Services
Residents have free access to many support services through UTHealth.Care.com. The services include free child care, elder care, housekeeping, pet care, and tutoring. Furthermore, counseling services are provided by the UTEAP (713-500-3327). Residents can reach out to counselors and share their issues and matters whether they are work or personally related. The first 5 sessions are offered free by UTH and all sessions are confidential.
---