Examplify for the iPad
Examplify for the iPad
Tap the Examplify icon.
Scroll to the bottom of the Software License Agreement and click the I Agree.
Enter the Institution ID: uthmed > Select the 2nd option, The University of Texas Health Science Center at Houston Medical School, in the dropdown list > tap Next.
Enter your ExamSoft User ID and Password.
Note: if you forgot your password, go to https://examsoft.com/uthmed > Click on Lost Student ID or Password A link to reset the password will be sent to your UTHealth email account.
Tap Sign In.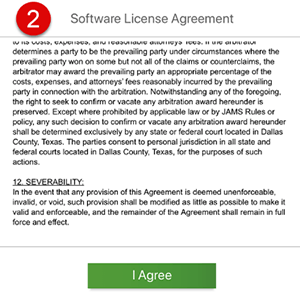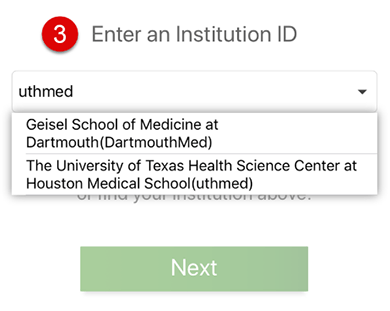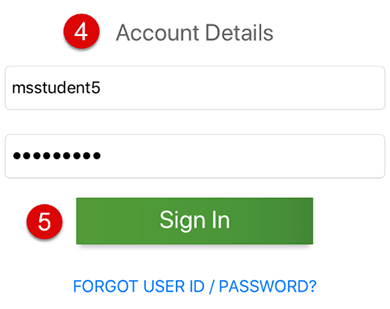 Once registered, you will find exams available to download on the left-hand side. Tap the exam name to select the exam. If you do not see the exam you are scheduled to take, tap the Refresh Exam List button.
Tap the Download Exam button to download the exam to the device. You can review the exam details and settings for the exam.
Enter the case-sensitive password provided to you and tap Enter.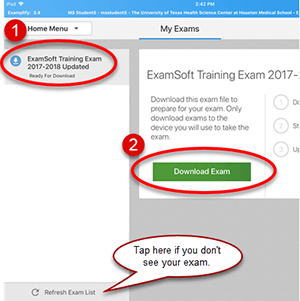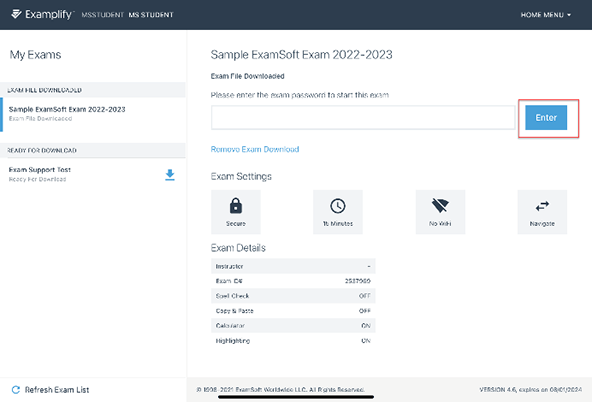 Note: Airplane mode has to be enabled to begin the exam!
On the Action Required screen, tap Settings.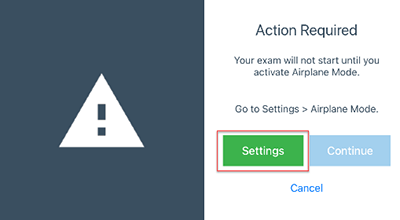 On the Settings screen, under Airplane Mode, tap the slider to turn it on.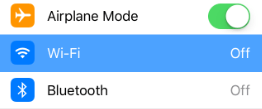 Return to the home screen > Tap the Examplify icon to return to the Action Required screen > Click Continue.
A popup to confirm App Self-Lock will appear. Tap Yes to confirm Assessment Mode.
On the Exam Notice screen, agree to the Honor Code by tapping Continue.
Wait at the "Do Not Start Until Instructed" screen until you are instructed to start your exam.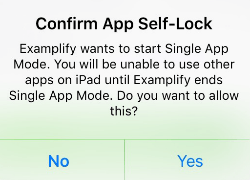 When instructed, tap Continue > tap the toggle button I am authorized to start my exam > tap Start Exam. You will now be in your exam.
Once you have completed the exam, tap Exam Controls > tap Submit Exam from the dropdown menu.
At the warning screen, tap the toggle button I confirm that I have completed my exam > Submit Exam.  You may not re-enter the exam after exiting this screen.  If you need to return to your exam, tap Go Back.
On the Answer File Completed and Saved screen, tap Settings > Turn off Airplane mode.
Return to home screen > Relaunch Exemplify > tap Next to upload your exam.
At the green "Congratulations" screen, tap Return to Dashboard.
You will be automatically logged out of the application, and it will return to the Software License Agreement screen.