Standardized Patient Program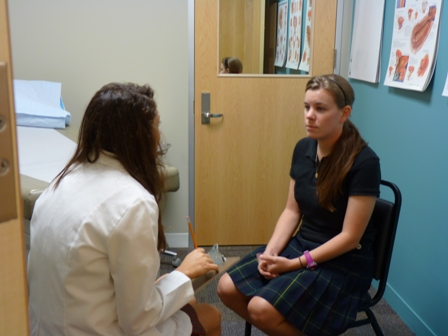 The Standardized Patient Program provides teaching and assessment learning opportunities for undergraduate, graduate, and continuing medical education. The SP Program manages all aspects of providing professionally trained patients, which includes recruiting, training and scheduling. We currently have standardized patients that range in age from 7 years old to 82 years old. There are established, continuous quality improvement initiatives embedded within the program for observation and evaluation of the professional patients to ensure quality, consistency, and reliability in completing checklists, providing feedback, and performing roles. SPs are valuable tools that are bridging the gap between lectures and practical application. The SP Program can assist you in choosing the most appropriate use for your course. The SP Program is one of the largest programs within the State of Texas and is viewed as a leader in SP methodology.
The SP Program has been under the leadership of Mrs. Marcy Hamburger, MS since 2009, but her experience with SPs for 20 years when she started her career with SPs at Baylor College of Medicine. She has held many responsibilities regarding the SP program, including being an SP herself once! Mrs. Hamburger received an MS in Guidance and Counseling at Long Island University in New York City after completing her BA in Marketing there as well. She has a passion for helping people develop their own skills to become great educators to our medical students. She also dedicates her time to help our faculty members here at McGovern medical school with many different projects. When Mrs. Hamburger isn't working diligently with our SP program, she is very involved with her family, friends and the community, especially the Dr. Marnie Rose Foundation.
History of SPs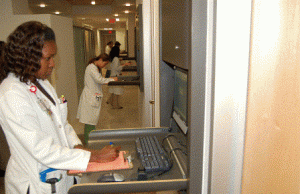 The first simulated patient was born in 1963 at the University of Southern California in Los Angeles. The father of this birth was Dr. Howard S. Barrows, a neurologist and medical educator at the university. Dr. Barrows' first simulated patient was Rose McWilliams. She was used to teach the normal neurological examination. After teaching the exam, Dr. Barrows pondered how he would evaluate the students. He needed a case that every single student would see in exactly the same way. His first case was Patty Dugger, a paraplegic woman with multiple sclerosis. This was the birth of a standardized patient. Over the years, Dr. Barrows continued to develop and expand the use of simulated patients in medical education. Today, SP methodology has been adopted globally.
Current Sessions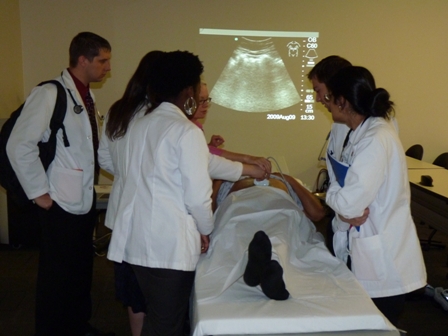 Being centrally located within the Office of Educational Programs located in the Dean's office, the SP Program is accessible to all courses and departments.  The staff is continually planning new projects and grant opportunities.  Below is a list of current projects and programs using SPs.
Summer Health Professions Education Program (SHPEP)
Joint Admissions Medical Program (JAMP)
Pre Entry Course
1st Year Doctoring 1 & 2 Course
1st & 2nd Year Male Genitourinary Examinations
1st & 2nd Year Female Breast and Pelvic Examinations
2nd Year Doctoring 3 Course
3rd Year Internal Medicine Clerkship Small Group Session (Breaking Bad News)
3rd Year Internal Medicine Clerkship Session
3rd Year Pediatric Clerkship Small Group Session
3rd Year Neurology Clerkship Session
3rd Year Psychiatry Clerkship Session
4th Year Comprehensive Clinical Competency Exam (CCCE)
4th Year Ambulatory Care Rotation
Anesthesiology Residency
Genetic Counseling
Internal Medicine Residency Program
Pediatrics Residency Program
University of Texas Health Science Center Inter-Professional Education
Information for Prospective SPs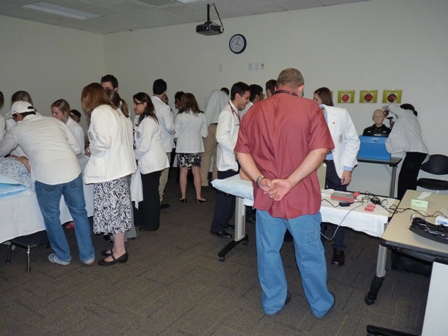 All applicants interested in the Standardized Patient position must complete an application online at the UTHealth Job Site.  Once at this site, you need to click on the "search current openings" link from the menu bar located on the left hand side of the screen.  Then, search for Standardized Patient at Medical School Building for the SP position at the Medical School.
Location
The Standardized Patient Program is located in the Surgical and Clinical Skills Center (SCSC) in the basement of McGovern Medical School, MSB B.120. The Clinical Skills Facility has 14 patient rooms, a large instructional classroom and a monitor room that allows for full audio and visual supervision of the activities in the patient rooms.
In addition, the Learning Resource Center has approximately ten practice patient care rooms available for medical students to practice clinical skills.
Resources
For more information regarding standardized patient education, please visit: Association of Standardized Patient Educators