NBME Compatibility Check
NBME Compatibility Check
You are required to check your MSIT approved laptop for compatibility before EACH exam. The secure browser includes a feature that will detect if an examinee is running a program capable of recording or communicating exam content. Detection of any prohibited software will block your access to the exam until all prohibited services have been closed.
Note: If you have Panopto Recorder installed on your computer, you must uninstall it before the exam.
Prior to launch the Browser, you must exit any of the following types of programs:
Cloud Services (i.e., Dropbox and Google Drive)
Instant Messaging
Webcam Software
Screen/Image Capture Programs (i.e., Snagit, Snipping Tool, Greenshot, etc.)
Communication Platforms (i.e., Skype)
To verify your laptop is compatible with NBME Secure Browser:
1. Go to http://wbt.nbme.org/exam
2. Click to DOWNLOAD button to download the Secure Browser
3. Run the Secure Browser installation file, PCSecureBrowser.exe (located at the bottom of the browser window or in the downloads folder)
4. Click TEST COMPATIBILITY under Workstation Certification



5. Choose Examinee Personal Laptop Certification
6. Click the icon I will be taking a web-based exam in person, or via Zoom, MS Teams, Webex.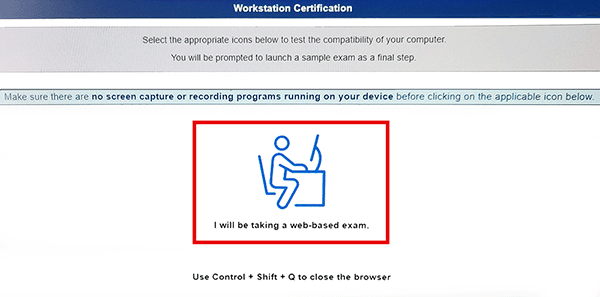 7. Click Launch Sample Exam
If you receive the following error message, please submit a ServiceNow ticket to the MSIT: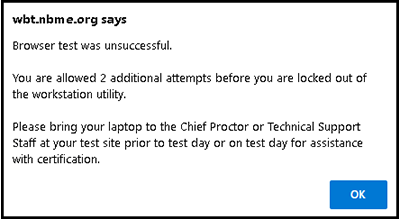 Notes:
Always use your MSIT approved computer
Restart your computer the day before the exam, and install mandatory updates as needed
Connect your laptop's power supply cord to the power ports at your workstation (do not rely on batteries)
Connect to the UTHealth wireless network with your account throughout the exam
The use of an external mouse is recommended but not mandatory
Click here to review the Medical School Student Laptop Requirements.  If you have questions about these requirements or need further assistance, please submit a ServiceNow ticket or visit the LRC.