Neuroscience Critical Care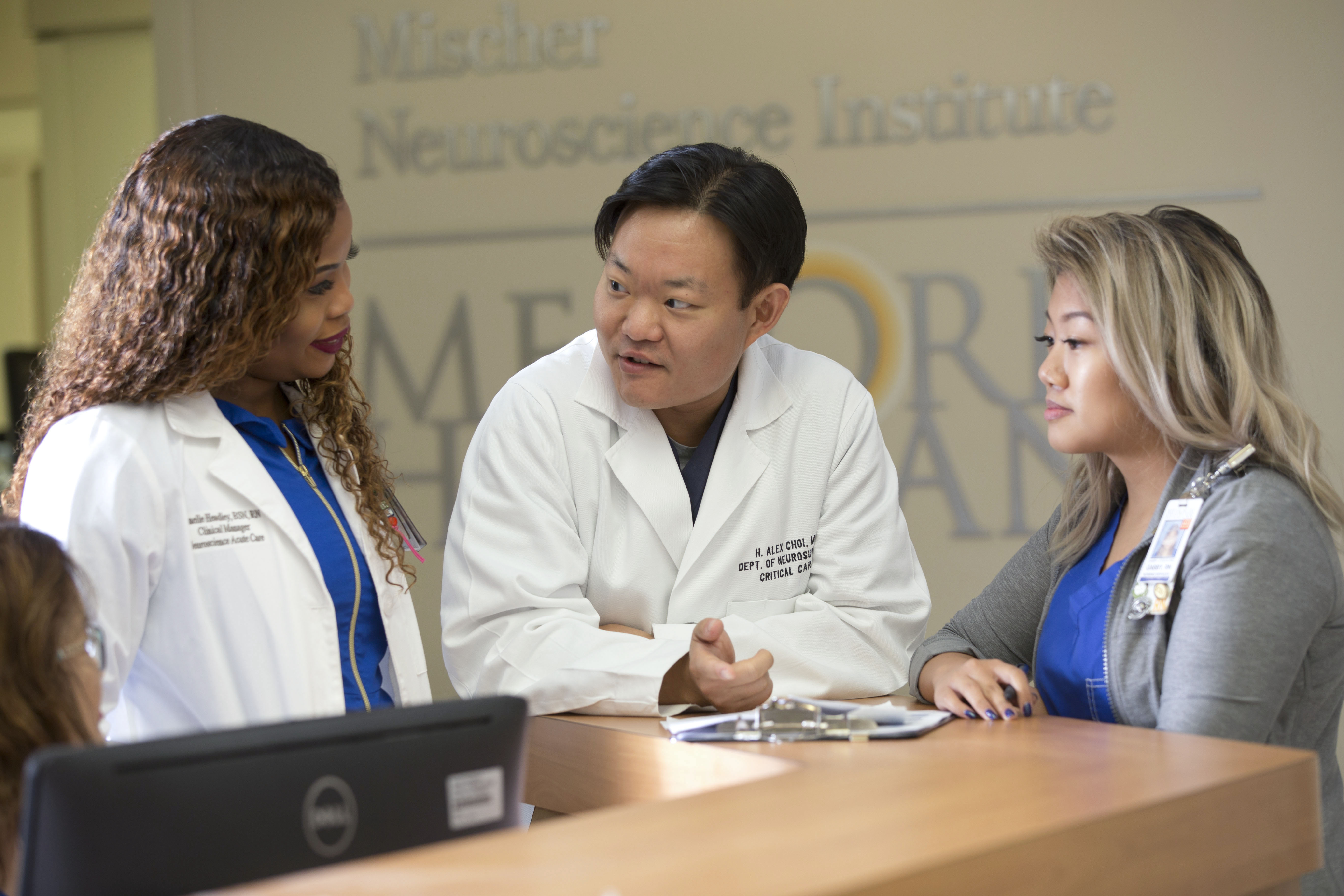 The Neurotrauma and Neuroscience Critical Care Program is internationally recognized for the treatment of high acuity brain and spinal cord injuries. UT physicians manage more neurotrauma cases than any other center in the United States, with neurointensivists and experienced mid-level practitioners staffing the 32-bed Neuroscience and Neurotrauma ICU around the clock to provide ongoing intensive care to critically ill patients. The program continues to grow and now operates the largest and busiest Neuro ICU in the region and the second largest in the nation.
The Neuroscience Critical Care Program is an international leader in research conducted on innovative treatments following neurotrauma, including participation in several multicenter trials. Investigators at UTHealth Neurosciences, UTHealth Medical School and TIRR Memorial Hermann are studying biomarkers for pain in spinal cord injury; cranioplasty outcome following decompressive craniectomy; adult stem cell therapy in severe traumatic brain injury (TBI) and acute stroke patients; the effects of erythropoietin on cerebrovascular dysfunction and anemia in TBI; neural and behavioral sequelae of blast-related TBI; the safety and pharmacokinetics of riluzole in patients with traumatic acute spinal cord injury; coagulation and outcome from acute neurologic injury using thrombelastography; perihematomal response to tissue injury and outcomes from intracerebral hemorrhage (ICH); inflammation and global cerebral edema after subarachnoid hemorrhage (SAH); and other basic science research and clinical trials.
The Neuroscience Critical Care Program utilizes the most advanced medical technologies and devices, including a multimodal monitoring system.
UTHealth Medical School offers a two-year neurocritical care fellowship for applicants who are board certified or eligible in neurology, emergency medicine, anesthesia or internal medicine. A one-year fellowship track is open to eligible candidates who have completed postgraduate training in neurosurgery, medical critical care, anesthesia critical care or surgical critical care. The educational curriculum is specifically designed to train physicians with a strong base in general critical care, with an emphasis on neurological and neurosurgical emergencies.
---
Neuroscience ICU
The Neuroscience ICU (NSICU) is equipped with multimodality monitoring capability including ICP, CPP, continuous video EEG monitoring, continuous cardiac output, SjvO2 monitoring and the country's first use of the latest model of digitalized brain oxymetry (PbtO2) with monitors connected to patient bedside monitoring. The NSICU is a truly academic training environment where fellows work with neurosurgery, neurology, anesthesia and emergency medicine residents, as well as rotating fellows from other critical care programs. Fellows may rotate through the medical, surgical/trauma and cardiovascular ICUs and are offered a number of electives including anesthesiology, stroke, EEG, TCD, neuroradiology and burns. They also have the opportunity to work on the nation's first Mobile Stroke Unit.
We are the first in Texas and the only center in the region to receive the highly coveted Comprehensive Stroke Center certification from The Joint Commission and the American Heart Association/American Stroke Association. In addition to stroke, Neuro ICU team provides comprehensive high-level care for all neurological and neurosurgical vascular emergencies and illnesses. The dedicated ICU team operates in a closed-unit model and is the primary care team for surgical vascular patients, providing leading-edge care 24/7.
---
Texas Trauma Institute and Life Flight
Patients with acute neurological injuries benefit from the Texas Trauma Institute at Memorial Hermann-Texas Medical Center – one of only two Level I trauma centers in the area and one of the busiest in the nation – and from Life Flight®, the first air medical transport service established in Texas and the second in the nation. Built on the hospital's long-term collaboration with UTHealth Medical School, the 200-bed Texas Trauma Institute provides high-quality care to both adult and pediatric trauma patients and offers a full spectrum of service including access to Houston's only verified burn center.