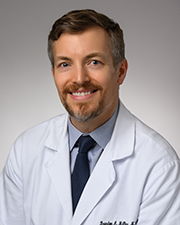 Brandon A. Miller, MD, PhD, FAANS
Assistant Professor, Pediatric Neurosurgery
Contact
Biography
Dr. Brandon Miller received his PhD in neuroscience from The Ohio State University in 2007 and his MD from the same institution in 2009. He completed residency training in neurosurgery at Emory University School of Medicine, followed by a fellowship in pediatric neurosurgery at Washington University in St. Louis and St. Louis Children's Hospital.
He joins McGovern Medical School from the University of Kentucky Departments of Neurosurgery and Neuroscience, where he was director of the Pediatric Brain Injury Laboratory at the Spinal Cord and Brain Injury Research Center and co-director of the MD/PhD program. Dr. Miller is an avid researcher with interests in IVH and hydrocephalus. He is the principal investigator on a National Institutes of Health Clinical Investigator Award focused on developing new treatments for IVH and hydrocephalus. He has received many recognitions and awards for his research, is the author of numerous peer-reviewed articles, and regularly serves as a reviewer for journals and grant review committees.
For Patients
If you are interested in learning more about Dr. Miller's clinical practice, please click here.