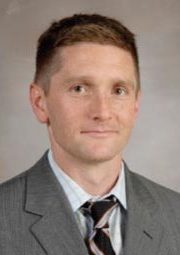 Assistant Professor, Vivian L. Smith Department of Neurosurgery
713-486-8080
713-486-8090

Biography
Dr. Joseph Cochran is a fellowship-trained neurosurgeon who specializes in endovascular surgery, cerebrovascular surgery, brain tumors, skull base surgery and complex and minimally invasive spine surgery.
After receiving his medical degree at Chicago Medical School, he completed his residency in neurological surgery at the Medical College of Wisconsin in Milwaukee.
He subsequently completed a two-year fellowship in cerebrovascular/skull base/endovascular surgery at the John P. and Kathrine G. McGovern Medical School at The University of Texas Health Science Center (UTHealth) at Houston. Dr. Cochran is the co-author of articles published in Neurosurgery, the International Journal of Radiation Oncology*Biology* Physics and Annals of Advances in Automotive Medicine.
His clinical and research interests include cerebral vasospasm, traumatic vascular injuries and cervical artificial disc replacement.
Dr. Cochran has a special interest in treating the following disorders:
Aneurysm
Arteriovenous malformation
Brain tumors
Disk disease
Skull base tumors
Spinal stenosis
Spinal tumors
Stroke
Traumatic brain and spine injury
For Patients
If you are interested in learning more about Dr. Cochran's clinical practice, please click below.
Education
Graduate School

Chicago Medical School, Chicago, IL

Residency

Medical College of Wisconsin, Milwaukee, WI

Fellowship

Cerebrovascular/ Skullbase/ Endovascular Surgery, University of Texas Health Science Center, Houston, TX