Dr. Maria Matuszczak Featured on KRPC-2
---
---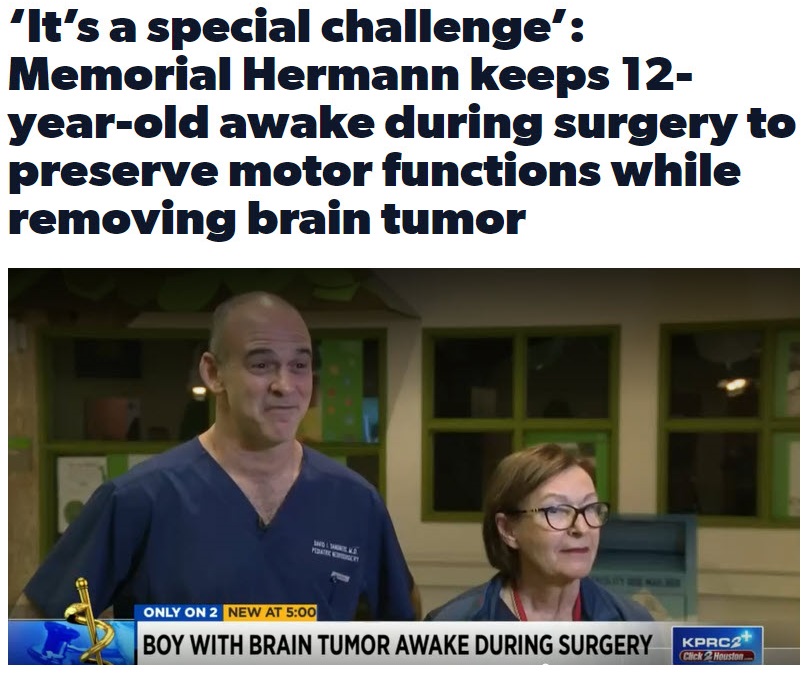 A young 12-year old boy, Gage, with a brain tumor had to be operated on while he was awake. But due to the location of it, UTHealth Pediatric Neurosurgeon Dr. David Sandberg, had to remove enough to get rid of the tumor, but not too much that the patient would lose any motor function.
"It's a special challenge when you have a brain tumor that's right near or possibly within the areas that control motor function, so the concern is that if you do surgery asleep when the patient wakes up, he might have a new problem," explained Dr. Sandberg. "It takes a very special skill set to wake a child up in the middle of a surgery without them being in pain, without them being scared, to have them go back to sleep at the right time. It's an art! I don't take it for granted because very few anesthesiologists in the country could do it as skillfully as Dr. Matuszczak and her team."
"For me, it was important to really write down a very precise protocol just for him, just for his case, to make sure we don't forget any little detail," said UTHealth Pediatric Anesthesiologist, Dr. Maria Matuszczak. "I wanted him to know the voices, the voices of people who will be in the room, so when he is awake, he recognizes and he's not scared."
"When I woke up during the surgery, it felt like just one minute," Gage said.  Gage, however, was awake for more than half an hour following instructions from his team of doctors and making sure the surgery was successful.
"I just looked at Dr. Sandberg and he had a big smile on his face, and he told us that everything was successful, and it was just like… the most wonderful feeling in the world to hear that," Gage's mother, Shannon, said.
Gage was even able to return to his favorite sport (baseball) about two weeks later.
Watch the news clip from KRPC-2 here.
Congratulations to Dr. Maria Matuszczak, her team, and Dr. David Sandberg on an amazing job!
---