Pediatric Cardiothoracic Anesthesiology
Innovative Excellence in Redefining Pediatric Cardiac Anesthesia Care:
Leading the Way in Clinical Practice, Education, and Research
The Division of Pediatric Cardiac Anesthesia at McGovern Medical School, UTHealth Houston is committed to providing expert and compassionate care to patients of all ages with congenital heart disease. Collaborating closely with the Children's Heart Institute at Children's Memorial Hermann Hospital, the team is composed of specialized, board-certified anesthesiologists and mid-level practitioners with extensive training in pediatric anesthesia and pediatric cardiac anesthesia.
The division takes a best practice, team-based approach to ensure successful perioperative outcomes, working in close collaboration with the surgical and cardiology services to provide comprehensive care to patients. Robust standardized protocols based on the latest evidence-based guidelines ensure high-quality care for all patients with congenital heart disease, regardless of their condition or location.
Education is a critical focus for the division, offering a comprehensive 12-month Texas Medical Board approved Pediatric Cardiac anesthesia fellowship in line with ACGME guidelines. The faculty is actively involved in scholarly activities, including research, publications, and presentations at national and international conferences, contributing to advancements in the field of pediatric cardiac anesthesia.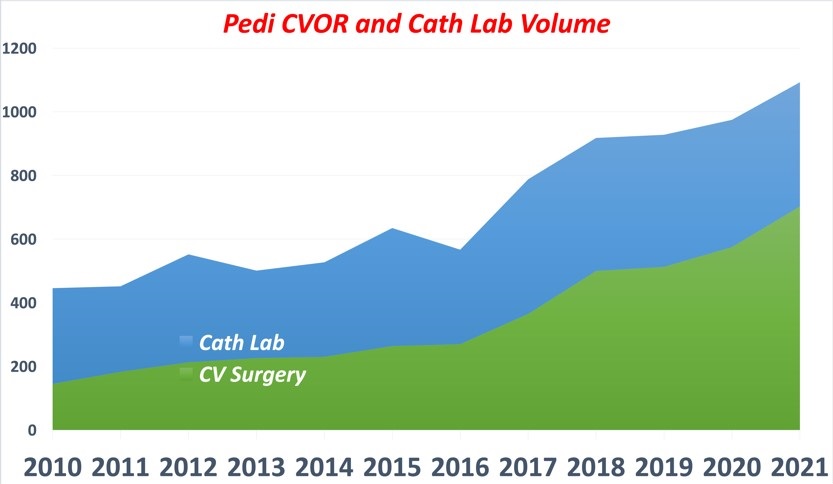 The Children's Heart Institute has an outstanding reputation for perioperative outcomes, placing it among the top 6% of congenital heart surgery centers in North America, reflects their commitment to excellence. The institute has seen significant growth in its cardiovascular surgery and catheterization lab departments over the past decade, with a fourfold increase in surgeries and a threefold increase in catheterization procedures since 2010. This growth can be attributed to the hospital's commitment to providing world-class healthcare services, investing in cutting-edge medical technology and research, and attracting top-quality clinicians and physician scientists to the team. The hospital's multidisciplinary approach to cardiovascular care, state-of-the-art facilities, and commitment to continuous improvement and excellence in patient care have earned it a reputation as a leading center for cardiovascular care in the region. Additionally, the Children's Heart Institute has an exceptional record of caring for a high percentage of neonates and infants with the nation's most complex cases, with one of the lowest risk-adjusted STS reported mortality metrics in the nation, saving countless lives through their expert care.
Overall, the Division of Pediatric Cardiac Anesthesia at McGovern Medical School, UTHealth Houston, has demonstrated exceptional expertise, experience, and compassion in transforming caring for neonates, children, and adults with congenital heart disease in the Greater Houston Area. We are committed to advancing innovative solutions geared towards high-quality outcomes and for patients to lead a normal life.
Nischal Gautam, MBBS
Director, Pediatric Cardiothoracic Anesthesiology Division
Professor, Anesthesiology
Olga Pawelek, MD, FASA
Program Director of Pediatric Cardiothoracic Anesthesia Fellowship
Associate Professor, Anesthesiology
Rebecca Scholl, MD
Education Director of Pediatric Cardiac Anesthesia
Assistant Professor, Anesthesiology
Jehan Elliott, MD
Assistant Professor, Anesthesiology
Meera Gangadharan, MBBS
Staff Physician, Anesthesiology
Evelyn Griffin, MD
Assistant Professor, Anesthesiology
Robert Hill, MD
Assistant Professor, Anesthesiology
Wanda Miller-Hance, MD
Staff Physician, Anesthesiology
Vy Tran, MD
Assistant Professor, Anesthesiology
Laura Anaya, RN
CV Anesthesia Coordinator
Congenital Cardiac Anesthesia Perioperative Care Team: This dedicated team aims to minimize delays in care, improve hospital stays, possibly decrease morbidity, reduce complications, and decrease costs for patients. The creation of this unique team is an innovative solution that further strengthens the division's commitment to advancing the scope of pediatric cardiac anesthesia beyond the operating room and assuring a safe trajectory for the patients.
Jeron Estwick, CAA
Kelbie Kerr, CAA
Eric Rydalch, CAA
Saeed Yacouby, CRNA