Obstetric Anesthesiology
The Obstetric Anesthesia Division is composed of a very diverse set of ten core obstetric (OB) fellowship trained, and 27 adjunct faculty anesthesiologists, which are a great asset to take care of our culturally diverse patient population 24/7.
We provide obstetric anesthesia services for about 7000 deliveries a year between 2 sites: the Women's Center at Children's Memorial Hermann Hospital located within the Texas Medical Center (TMC) with 4500 deliveries and a large majority of high-risk pregnancies, and Lyndon B Johnson Hospital (LBJ) with 2500 deliveries. Dr. Onyi Onuoha is the site director for the Hermann site. She trained at the University of Pennsylvania for her residency and fellowship. She is also currently one of the Assistant Residency Program Directors. Dr. Alice Lam O'Brien is the site director at LBJ. She trained at Baylor College of Medicine for her residency and fellowship. She is also the Director of Perioperative Informatics for our department.
The high-risk patients include morbidly adherent placenta (MAP), parturient with cardiac disease, systemic autoimmune disease, bleeding disorders, hypertensive disease, and fetal abnormalities from the fetal center. Eighty to 85% of the patients receive anesthesia care. We see those high-risk patients in our OB anesthesia clinic (led by one of our OB core faculty Dr Falce), every month.
The Women's Center at Children's Memorial Hermann Hospital is the main hub for OB anesthesia training for our fellows, residents and anesthesiology assistant students. At LBJ we also provide training for our residents, SRNA-DNP students and fellows. Residents begin their training in OB anesthesia in their first clinical anesthesia year (CA-1), with an initial emphasis on basic regional techniques for our large population of laboring patients. In addition, residents are trained to manage a great number of high risk maternal-fetal pregnant patients. 
We received ACGME certification for our Obstetric Anesthesia Fellowship training in 2020 and were approved for two fellows. Our Fellowship Program Director is Dr. Ana-Lisa Ramirez-Chapman who trained at UT Houston for residency and Baylor College of Medicine for her fellowship. 
Our fellows are exposed to a large variety of high-risk obstetric cases and have the opportunity to experience multi-disciplinary team approaches in very different locations such as the main operating room or HVI (where we also work closely with the anesthesia cardiac team). They also have access to additional training in Point of Care Ultrasound (POCUS), Maternal and Fetal Medicine, Neonatal Intensive Care Unit, Fetal Center cases and other elective rotations, including emphasis on Clinical research and other scholarly activities.
In 2022, our UTH Obstetric anesthesia division at MHH was awarded accreditation as a SOAP Center of Excellence. SOAP recognizes institutions and programs that demonstrate excellence in obstetric anesthesia care. It sets a benchmark level of expected care.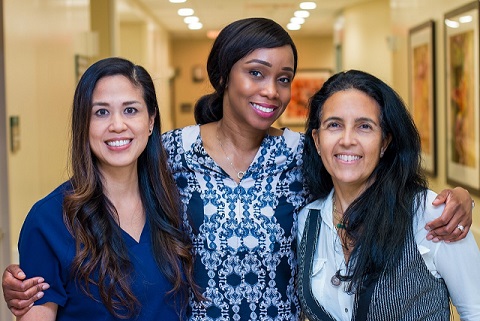 Barbara Orlando, MD, PhD, FASA
Chief of Obstetric Anesthesiology
Associate Professor
Adjunct Associate Professor - Obstetrics, Gynecology and Reproductive Sciences
Alice O'Brien, MD
Site Director at Lyndon B Johnson Hospital and Director of Perioperative Informatics
Associate Professor
Adjunct Associate Professor - Obstetrics, Gynecology and Reproductive Sciences
Onyi Onuoha, MD, MPH
Site Director Women's Center at Children's Memorial Hermann Hospital and Assistant Residency Program Director
Associate Professor
Adjunct Associate Professor - Obstetrics, Gynecology and Reproductive Sciences
Ana-Lisa Ramirez-Chapman, MD
Obstetric Anesthesiology Fellowship Director
Assistant Professor
Kendra Brown, MD
Assistant Professor
Kristin Falce, MD
Assistant Professor
Jennifer Hoayek, MD
Assistant Professor
Maya S. Suresh, MBBS
Professor (Tenured),
Vice Chair of Faculty Affairs
Mitesh Thakkar, MD
Assistant Professor
Danielle White, MD
Assistant Professor