Pediatric Anesthesiology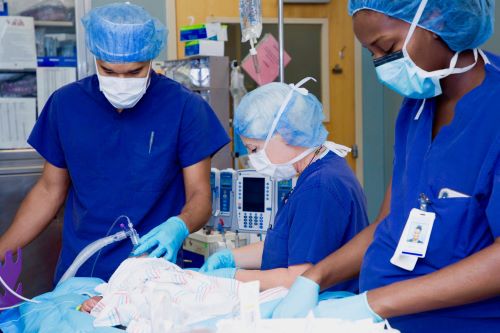 Our priority is to provide the safest care to all children coming for surgery at Children's Memorial Hermann and Harris Health System's Lyndon B. Johnson Hospital. Pediatric anesthesia covers all facets of the pediatric surgical spectrum including general surgery, trauma, otolaryngology, urology, ophthalmology, neurosurgery, plastic surgery, cardiothoracic surgery, and maternal-fetal surgery. Our subdivision provides care for pediatric patients in locations outside the operating room such as the neonatal ICU, cardiac catheterization lab, MRI suite, CT scan, and GI lab.
Faculty members in the pediatric anesthesia division are fellowship trained and board certified, or have equivalent credentials. All  pediatric anesthesiologists are highly qualified to care for the sickest children whether hospitalized in our Level 4 neonatal intensive care unit (NICU) or admitted through the Level 1 trauma center.
This exciting subspecialty allows residents to develop the clinical skills necessary for the care of the neonate, infant, and toddler. In conjunction with Children's Memorial Hermann Hospital, a wide range of cases is performed on a daily basis. The volume of cases is expanding and soon, separate pediatric operating rooms with a separate pediatric PACU and DSU will open. A pediatric anesthesia fellowship is being developed as well.
Nischal Gautam, MBBS
Vice Chair And Chief, Division Of Pediatric Anesthesia
Professor, Anesthesiology
Ranu Jain, MBBS
Assistant Director, Division Of Pediatric Anesthesia
Program Director, Pediatric Anesthesiology Fellowship
Professor, Anesthesiology
Allison Buchanan, MD
Staff Physician, Anesthesiology
Stacy Cameron, MD
Assistant Professor, Anesthesiology
Jael Carbajal, MD
Assistant Professor, Anesthesiology
Sarah Chehab, MD
Assistant Professor, Anesthesiology
Neale J. Clark, MD
Assistant Professor, Anesthesiology
Rhashedah Ekeoduru, MD
Associate Professor, Anesthesiology
Amy Graham-Carlson, MD
Associate Professor, Anesthesiology
Sabina Khan, MD
Assistant Professor, Anesthesiology
Maura L. McKinney, MD
Assistant Professor, Anesthesiology
Maria. Matuszczak, MD
Professor, Anesthesiology
Eric A. Nesrsta, MD
Assistant Professor, Anesthesiology
Rachel Rhem, MD
Assistant Professor, Anesthesiology
Vishwas Seshachellam, DO
Assistant Professor, Anesthesiology
Sarah Tariq, MD
Staff Physician, Anesthesiology
Dalia Teima, MD, PhD
Assistant Professor, Anesthesiology
Nitin Wadhwa, MD
Associate Professor, Anesthesiology