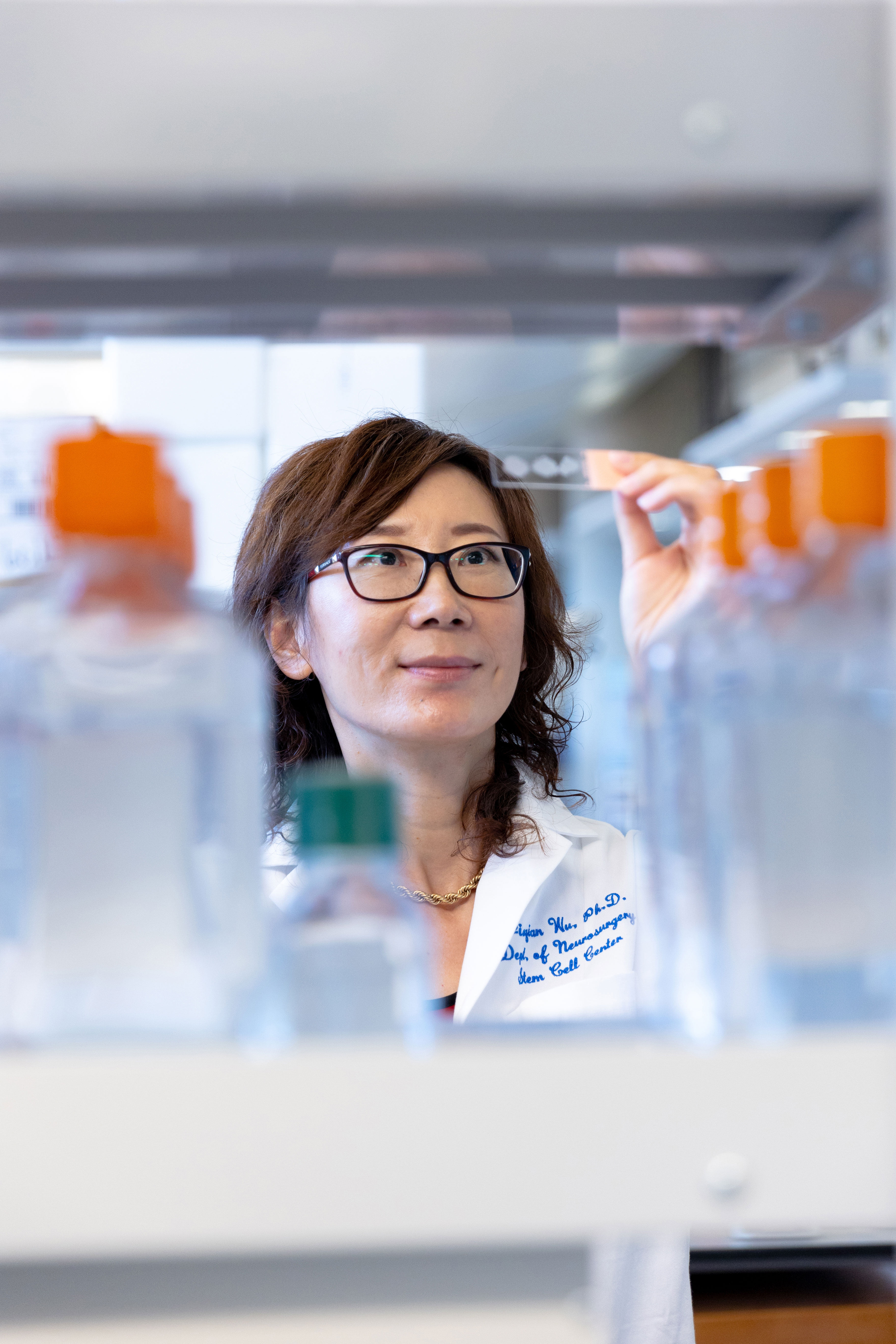 Diseases involving the brain and central nervous system, such as stroke, Alzheimer's, and multiple sclerosis, continue to elude restorative treatment, causing devastating long-term effects for patients and their families.
Jiaqian Wu, PhD, associate professor of neurosurgery, aims to stem the rising prevalence of these brain diseases by understanding pathological processes common to neurotrauma, stroke, and neurodegenerative diseases. Wu and her lab are focused on the activation of astrocytes – a type of glial cell that support neurons, and oligodendrocyte demyelination, which impairs functions in neurodegenerative diseases.
"These pathological processes exist throughout spinal cord injury, brain injury, and neurodegenerative diseases. We use cutting-edge technologies, such as single-cell sequencing and RNA-based therapy, to develop therapeutic approaches to improve the neurological environment and promote neuroregeneration," she explained.
More than 1 million people in the United States live with multiple sclerosis. More than 795,000 strokes occur in the United States each year, with stroke rates rising among those under 55 years old. And a projected 14 million in the United States are expected to suffer from Alzheimer's disease by 2060.
"Neurodegenerative diseases, such as multiple sclerosis, Alzheimer's, and stroke share commonalities at the cellular level. There are a lot of similar pathological processes that we can work on that would benefit these different diseases," Wu said.
A joint faculty member of both the IMM's Center for Stem Cell and Regenerative Medicine and the Vivian L. Smith Department of Neurosurgery since 2011, Wu bridges both the research and clinical missions.
"This collaborative environment in the Stem Cell Center is very important for doing research – we form a critical mass of people studying stem cells together," she explained.
Wu's research is collaborative among institutions as well. Her research includes four federally funded grants in such areas as spinal cord injury, neural regeneration, and Alzheimer's disease – with colleagues from Baylor College of Medicine and Tufts University.
"Another specialty of my lab is that we have computational expertise. We are able to analyze big data and then integrate them into bench research," she said.
The group is working to identify key regulators to modify the pathological environment in neural tissues and facilitate axon regeneration to restore mobility.
The lab is looking to an understudied area – long noncoding RNA – which are essential regulators in the central nervous system. While they do not encode for protein, they can be versatile, forming scaffold to interact with proteins, or RNA or DNA.
"RNA has emerged as a promising therapeutic tool in different diseases – such as the recent COVID vaccine," she said. "We are taking this one step further by identifying and characterizing essential functions of long noncoding RNA as a therapeutic target for neurological diseases.
"Our goal is to unleash the power of our body to help with regeneration under injury condition, stroke, or other neurodegenerative diseases. Finding the key regulators for this is giving us hope for future potential."