Program Personnel
Program Faculty
Click on faculty name to view profile
Charles W. Beasley, Ph.D.
Associate Professor
Ching-Mei J. Feng, Ph.D.
Assistant Professor
Patricia Svolos, Ph.D.
Assistant Professor
Ponnada A. Narayana, Ph.D., M.Sc.
Professor
Current Residents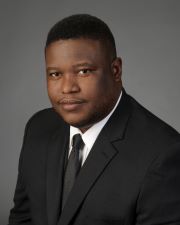 Olaolu Osunbayo Ph.D.  got his undergraduate degree from Obafemi Awolowo University, in Nigeria. Subsequent to that, he completed his Ph.D. in biophysics, in 2017, at the University of Utah, under the supervision of Dr. Michael Vershinin, Dept. of Physics and Astronomy, University of Utah. His doctoral dissertation includes collaboration to develop a novel laser holographic optical tweezers technique for dynamic nano-assembly. His dissertation also includes contributions to  new physical understandings of near immotile or locally diffusive intracellular cargoes.
In May 2018, he completed a CAMPEP approved postdoctoral certificate in medical physics at the University of Florida and he joined West Physics Consulting immediately after graduation as a junior diagnostic medical physicist.
In July of 2019 he joined the medical physics residency program at UTHealth.
Email: Olaolu.O.Osunbayo@uth.tmc.edu
Physics Assistant
Radiology Practitioner Assistant
Program Manager