Service and Leadership
Our residents are involved in numerous service and leadership endeavors!
Several of our residents serve and take leadership roles on international, national, state, and local committees, and as part of various radiology organizations and professional societies. Residents of all training levels actively participate in our residency admissions committee and interview prospective candidates.
UTHealth RAD-AID Chapter
The UTHealth RAD-AID chapter is led by Latifa Sanhaji, M.D. Our chapter fosters interprofessional collaboration and includes faculty members, residents, medical students, technicians, nurses and IT professionals. Our objective is to promote and increase the availability of imaging techniques, procedures and radiology education in resource-limited settings.
Each spring Dr. Sanhaji organizes and leads a trip to Morocco to enable valuable exchange of academic and technical knowledge, and to improve the quality of Moroccan medical education through lectures, workshops, hands-on training, and much more. In addition, a virtual lecture series is given to the Moroccan radiology residents and faculty annually.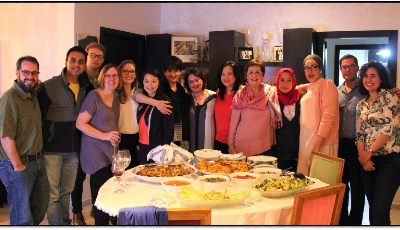 ACR Radiology Leadership Initiative: Resident Milestones Program
We encourage our residents to develop strong leadership skills and gain an understanding of healthcare economics through the ACR's Radiology Leadership Initiative Resident Milestones Program. The curriculum was developed by the ACR and blends the passive learning facilitated by articles and videos with active and collaborative learning to reinforce key concepts and provide residents with essential healthcare systems training. Click here for more information.