Benefits, Moonlighting, and Wellness
Residency Benefits
Please refer to The University of Texas System Medical Foundation Graduate Medical Education Resident Handbook located on the McGovern Medical School website for detailed information regarding specific institutional policies. The UTHealth GME website also provides information on resident stipends and insurance.
Some included benefits:
Health and malpractice insurance
Discounted garage parking
Meal cards for the cafeterias
Personalized white coats
Financial support and dedicated time for AIRP
Discounted Recreation Center access
Subscriptions to RadPrimer, StatDx, e-Anatomy
Access to all of the resources of the Texas Medical Center!
Radiology Resident Lounge
The radiology resident lounge is located in McGovern Medical School and is equipped with computers, printers, a big-screen television, as well as a coffee maker, microwave and refrigerator. This room is accessible via a combination code on the door and is a comfortable place for residents to gather, relax and work. There is also a general House Staff Lounge at Memorial Hermann Hospital that provides refreshment for residents daily.
Additional Educational Resources
Each resident receives a book fund that can be used to purchase a variety of educational materials. The university library, the Texas Medical Center library and the MDACC radiology library provide additional resources such as textbooks, digital teaching media, and journals for residents.
R1 and R2 residents each receive their own SonoSim device to learn the basics of ultrasound physics, how to perform scans, and make diagnoses.
---
Time Off
Vacation
Residents are allowed to schedule their own vacation days within the departmental guidelines. Residents are given 21 vacation days per year and may take up to 5 vacation days per rotation. An additional 5 days of vacation are granted to residents during either the week of Christmas or the week of New Year, culminating in a total of 26 vacation days each year.
Educational/CME Days
All residents receive 7 educational days per year to attend conferences or a review course. A resident who is presenting at a conference as the first author receives additional educational/CME days plus a stipend.
Sick Days
Residents accrue 1 sick day per month, which rollover to subsequent years. Each resident can hold a maximum of 30 sick days. These may be used during illness or for planned/scheduled health appointments.
---
Moonlighting
Multiple internal moonlighting opportunities are available for residents in good academic standing, starting within the first few weeks of R1 year. Residents can participate in evening and weekend shifts at Memorial Hermann Hospital and MD Anderson Cancer Center outpatient imaging centers. It is important to note that residents are not required to engage in moonlighting.
---
Resident Wellness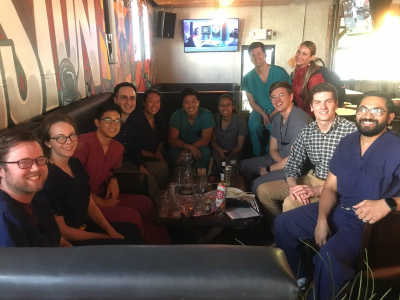 Resident wellbeing is of utmost importance in our program. Latifa Sanhaji, M.D., is the designated Wellness Officer for the Department of Diagnostic & Interventional Imaging at UTHealth. In this role Dr. Sanhaji organizes wellness activities and provides resources to promote resident adaption and resilience, including a lecture series and boot camps.
Dr. Sanhaji created the UT Residents' Wellness Lounge at LBJ Hospital, a place where residents can relax.
Mentorship
Dr. Sanhaji leads our mentoring program for residents. Incoming R1 residents are paired with upper-level residents to provide mentorship, help and guidance throughout residency. Residents have access to the UTHealth Fellow & Resident Assistance Program to help meet life's challenges and provide a more balanced and fulfilling work life.
Fitness
Residents and their families have discounted access to the Recreation Center, which provides a wide variety of quality facilities, equipment, and programs. Some of the features include an Olympic swimming pool, tennis courts, racquetball and basketball courts, workout classes and personal trainers.