Research
The UTHealth Department of Emergency Medicine (EM) is committed to furthering scientific knowledge to shape emergency medicine practice and care. The Department is engaged in a range of scientific efforts encompassing the realms of critical care (sepsis, post-arrest resuscitation and airway management), neurologic emergencies (stroke, seizures, traumatic brain injury), and population sciences (sepsis epidemiology and HIV screening studies). The Department is a leading participant in numerous international research efforts, including NIH-funded trials of the Neurological Emergencies Treatment Trials (NETT), Resuscitation Outcomes Consortium (ROC), Strategies to Innovate Emergency Care Clinical Trials (SIREN), and Prevention and Treatment of Acute Lung Injury (PETAL) networks. The research program is supported grants from the National Institutes of Health, the Department of Defense, and select industry sponsors.
Texas-CARES
Led by a phenomenal team of experts at the forefront of groundbreaking research in their disciplines, the Texas-CARES (Cardiac Arrest Registry to Enhance Survival) program helps produce measurable improvements in survival of cardiac arrest patients by finding and reporting related epidemiology, treatment parameters, and outcomes. The program's goal is to enhance the chain of survival and save lives throughout all communities. In this recent study, UT Health Houston researchers attempt to find a link between FR CPR and survival differences in local minority and lower socioeconomic status environments.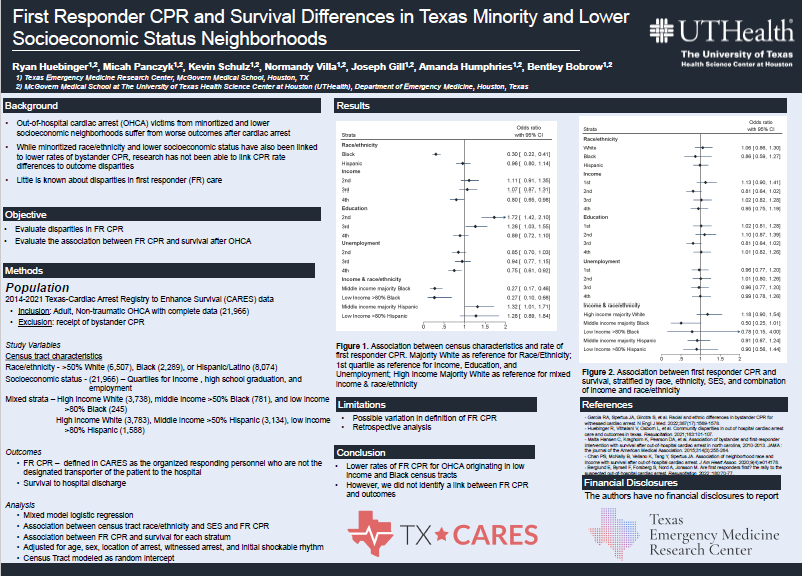 For more information about our ongoing research, visit the Texas Emergency Medicine Research Center site.
You can find more information about the EM researchers and staff here.
Research Fellowship: One of the department's missions is to mentor and train young investigators. The Department sponsors a two-year fellowship in EM Research. For more information click here.
Helpful materials on research study development and IRB submission can be found under Resources.