Organizational Structure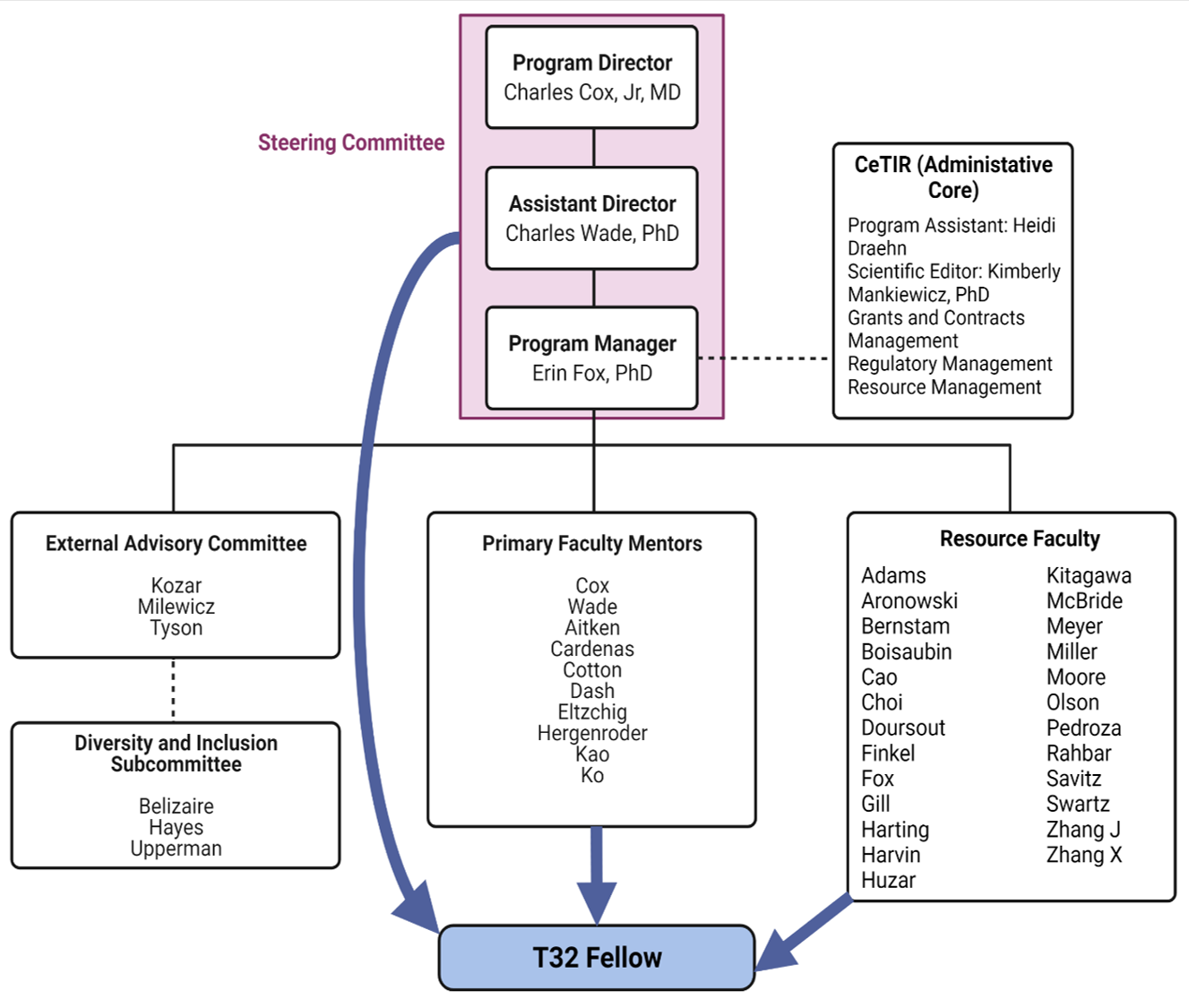 ---
Members of the Steering Committee will:
provide supervision and oversight of the scientific growth and maturation of trainees as well ensure that trainees meet the requirements of the program;
assure appropriate resources are available for executing designed experiments;
provide "hands-on" feedback in terms of data review, professional scientific conduct, and editing of written and oral communications/presentations;
advocate for trainees during their career progression; and
select the new fellows yearly and evaluate progress of the fellows who are completing their first year of support.
The T32 program has a wealth of faculty resources that are able to support postdoctoral fellow through funding, guidance, and collaboration.
Primary Faculty Mentors have extensive research, funding and mentorship experience and will ensure that fellows are receiving appropriate training to design effective, ethical, and informative experimental projects with oversight by the Steering Committee. In addition, they will assist in the program's recruiting. Each fellow will be directly advised by his/her Primary Faculty Mentor. Fellows will meet with their Primary Faculty Mentor on a regular basis to ensure that their project and research are on track and will present their research plans and results at least twice a year to the Steering Committee at weekly Friday Injury Meetings. Criteria for appointing program faculty include having a research portfolio related to injury and critical illness and an interest in mentoring.
As their project requires, fellows will seek Resource Faculty to assist in such areas as epidemiology and study design, statistics, informatics, imaging techniques, manuscript writing, etc.
The External Advisory Committee will attend meetings to discuss progress, help recruit high-quality candidates, and will formally evaluate the program in the second and fourth years of funding. Their high-level input will be used to refine and improve the program. A subcommittee of the EAC will focus on enhancing diversity in the program.
---