Education & Curriculum
---
Morbidity & Mortality Conference
Departmental Morbidity and Mortality Conference (M&M) is held Thursday mornings immediately following The Department of Surgery Grand Rounds. The purpose of the conference is to provide a safe forum to openly discuss near misses and complications to better guide future care of patients. This forum allows trainees to critically analyze the perioperative and operative care of the patient in addition to identifying any systems or patient-associated factors that contributed to their care. The conference is a critical component of our educational mission in addition to being a required element of surgical education by the Accreditation Council for Graduate Medical Education (ACGME).
Monday Didactics
Formal didactic sessions occur each Monday at 0700. This didactic session is led by a combination of resident and faculty-based review. This is a protected hour where we utilize case-based interactive lectures to cover various topics as outlined by the American Board of Surgery (ABS). Although our focus is based on ABS topics we cover a variety of topics including leadership and professionalism. We provide access to and utilize various electronic resources in preparation for Monday's discussions.
---
Quality Improvement Curriculum
The Quality Improvement (QI) curriculum at UTHealth Houston was inspired by the ACGME survey, which highlighted the residents' comfort utilizing QI. The surgical faculty includes Dr. Tamara Saunders, Dr. Sasha Adams, Dr. Kevin Lally, Dr. Lillian Kao, Dr. David Kim, Dr. Michael Wandling, and Dr. Akemi Kawaguchi. The QI committee created this curriculum with the idea that surgical residents could benefit from understanding and utilizing QI, which will be essential to any surgeon's future practice. The curriculum is broken down into three parts 1) Educational lectures that are based on the American College of Surgeons (ACS) lecture series, 2) a QI mortality and morbidity conference in which the residents participate by presenting cases that are identified as QI, and finally 3) PGY 2-5 cohort participates in a QI project that a faculty member mentors throughout the year which ends with a presentation.
We are happy to report that a few of these projects have gone on to be presented at national meetings, including the Association of Academic Surgeons and the ACS Quality and Safety Conference, as well as the presenting at local conferences such as the Quality Day for the surgical residency and the hospital and medical school combined Quality Improvement Day.
Recently, the QI program was recognized by McGovern Medical School with the 2022-2023 Graham Award in Patient Safety and Quality Improvement. This award is given for Excellence in Quality Improvement Education by creating "A Recipe for Continuous Improvement Education Program in Surgical Residency" .
---
Surgical Skills Training
Advanced Trauma Life Support (ATLS):
(ATLS) Student Course presents a concise approach to assessing and managing multiple injured patients. The course presents doctors and other qualified healthcare providers with knowledge and techniques that are comprehensive and easily adapted to fit their needs. The skills described in the manual represent one safe way to perform each technique, and the American College of Surgeons (ACS) recognizes that there are other acceptable approaches.
Fundamentals of Laparoscopic Surgery (FLS):
FLS is a comprehensive web-based education module with a hands-on skills training component and assessment tool designed to teach physiology, fundamental knowledge, and technical skills required in basic laparoscopic surgery.
Fundamentals of Endoscopy (FES):
The FES program is comprised of two components: education and assessment. The educational piece is a web-based, didactic presentation comprising 13 interactive, cognitive content chapters covering basic diagnostic and therapeutic endoscopy, using rich text, images, and illustrations. The assessment contains a multiple-choice exam and a performance-based manual skills assessment to evaluate technical and psychomotor skills.
---
Robotics Curriculum
Here at UTHealth Houston, we offer a comprehensive robotic curriculum designed to equip our residents with the necessary skills, confidence, and robotic certification to integrate robotics into their surgical practices.
Our residents benefit from working in hospitals equipped with cutting-edge robotic technology, with our main affiliate hospital proudly housing five of these state-of-the-art systems and being home to our pioneering robotic surgeons.
Our curriculum encompasses a variety of training approaches, ensuring a well-rounded learning experience. This includes hands-on training, engaging online courses, simulator training exercises, and extensive practical experience as both a bedside assistant and a console surgeon.
Residents have the opportunity to become proficient and certified in the areas of laparoscopic surgery, endoscopic procedures and robotics surgery. Residents are added and developing these skills with access to the Surgical Innovation and Robotics Institute (SIRI).
---
Clinical Rotations 2023-2024
| PGY1 | PGY2 | PGY3 | PGY4 | PGY5 |
| --- | --- | --- | --- | --- |
| LBJ Gold | LBJ Gold | LBJ Gold | LBJ Silver | LBJ Gold |
| LBJ Purple | LBJ Purple | LBJ Purple | LBJ Orange | LBJ Purple |
| LBJ Silver | LBJ Silver | LBJ NF | MHSW | LBJ OC |
| LBJ Orange | LBJ Orange | EGS | MHSL | MDA CR |
| EGS | Trauma | Transplant | Moody B | MHSE |
| Moody A | MHH NF | MDA Thoracic | Trauma | EGS |
| Moody B | MDA Pedi Surgery | Moody A | Pedi Surgery | Moody A |
| Pedi Surgery | STICU | STICU | Elective | Trauma |
| Trauma | | Breast Oncology | | |
| STICU | | Flex | | |
| Burns | | | | |
| HVI | | | | |
| PRS | | | | |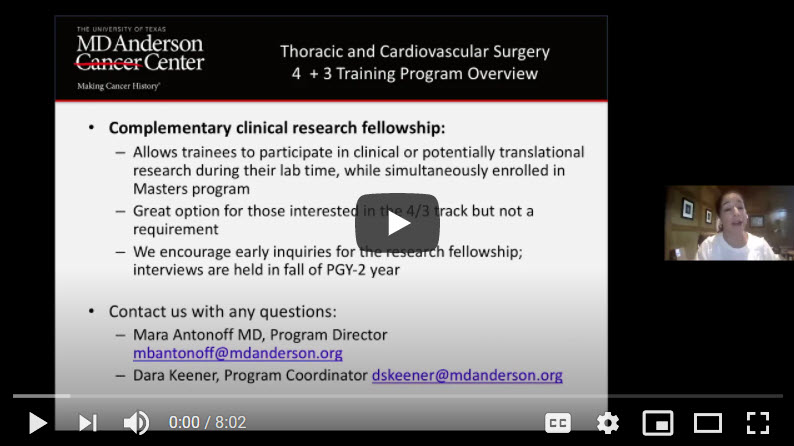 Click here
to learn about a unique opportunity for UTHealth residents to apply for a 4/3Thoracic and CV fellowship opportunity at MD Anderson
---
Rotation Hospitals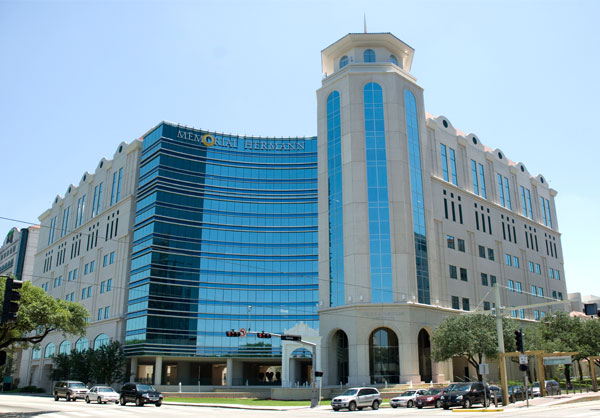 Memorial Hermann – TMC
is our flagship hospital where residents are exposed to a variety of patients from diverse backgrounds. This is also home to Houston's primary Level-1 Trauma Center, The Red Duke Trauma Institute, the busiest Level-1 Trauma Center in the country, and home to Life Flight, a critical care air medical transport service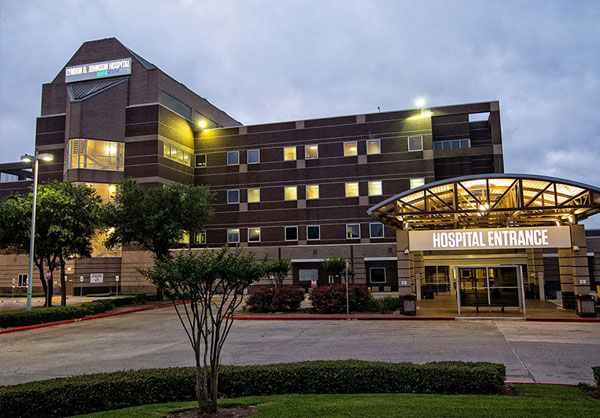 Lyndon B. Johnson (LBJ) General Hospital
is a robust county hospital located in Harris County. Here, our residents gain experience operating with increasing levels of autonomy with supervision from McGovern Medical School at UTHealth faculty. They also learn to manage patient care properly and effectively for an underserved population.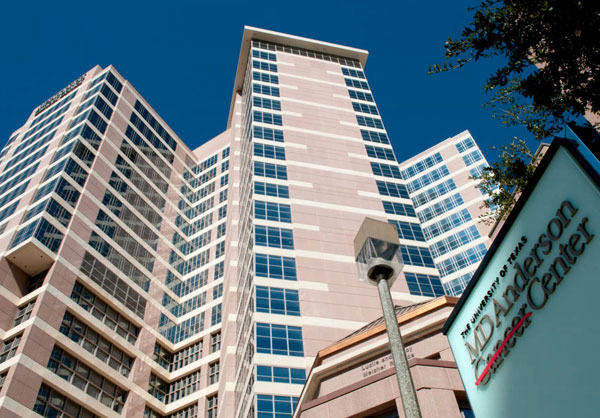 Residents rotate at the internationally recognized
M.D. Anderson Cancer Center
, where they gain experience in colorectal, surgical oncology, thoracic surgery, and pediatric surgery with specialists in the field.
---
Resources:
Surgical Council on Resident Education (SCORE)
Each week curated topics are assigned to the residents who are expected to complete the modules and a short 10 question quiz that relates to the weekly topic. Each module has assigned textbook readings that the SCORE portal provides access to.
TrueLearn
We provide each resident with a subscription to this question bank and assign weekly 20 question quizzes with the expectation to complete the question bank each academic year.
Texas Medical Center (TMC) Library
The collaborative
TMC Library
provides electronic access to virtually every surgical textbook in addition to providing access to
PubMed
.
Textbooks
Sabiston's Textbook of Surgery
Cameron's Current Surgical Therapy
Schwartz's Principles of Surgery
Greenfield's Surgery: Scientific Principles and Practice
Fischer's Mastery of Surgery
Review Books
ABSITE Review (FISER)
Mont Reid Surgical Handbook
Behind the Knife Podcast Companion
ABSITE Slayer
Clinical Scenarios in Surgery