Administration and Operations
Welcome to the UTHealth Department of Emergency Medicine Administration webpage. 
Mission:
The mission of the Administration section is to promote best practices in emergency department operations, develop innovations in care delivery, and train future clinical leaders in ED leadership and management.  Our section is comprised of department clinical leaders who are actively involved in improving emergency care delivery systems in Houston and beyond.  
Administration & Operations Fellowship:
As part of our academic commitment to training the next generation of leaders, we offer an Emergency Department Administration Fellowship for emergency physicians who completed an ACGME approved residency. Additionally, UTHealth residents can participate in a month-long emergency medicine administration elective. Our faculty speaks locally and nationally on physician leadership principles. 
Research:
The section is actively involved in research related to the practice of emergency medicine. Section members have earned recognition for their innovative work to improve safety, efficiency, and quality. They have presented their research at national meetings including ACEP and SAEM.  
Thank you for visiting our webpage and feel free to reach out with questions. 
Bio of Dr. Jonathan Rogg, MD, MBA:
Dr. Jonathan Rogg MD MBA is Vice-Chair of Strategy and Operations in the Department of Emergency Medicine. His academic research focuses on enhancing Emergency Department care delivery, improving patient satisfaction, optimizing patient throughput times, and decreasing cost of care. Dr. Rogg has authored a number of related peer-reviewed articles and his work has also been published in the Harvard Business Review.
Dr. Rogg is an expert on physician leadership and regularly lectures in the Healthcare Management Certificate program offered to McGovern trainees in conjunction with the University of Houston Clear-Lake. He also helped develop and teaches the McGovern Medical School integrated Financial Wellness curriculum.
Prior to working at UTHealth, Dr. Rogg served as the Assistant Director of Emergency Department Operations at Massachusetts General Hospital and Instructor of Emergency Medicine at Harvard Medical School. He received two undergraduate degrees from the Massachusetts Institute of Technology, in Biology and in Management from the Sloan School of Management. He earned an MD with research honors from Tufts University School of Medicine in Boston and trained in Emergency Medicine at the Harvard Affiliated Emergency Medicine Residency at Massachusetts General Hospital and Brigham and Women's Hospital. He completed a fellowship in Emergency Department Administration at Massachusetts General Hospital and also holds an MBA from Harvard Business School.
Bio of Zheng Ben Ma, MD, MHCM: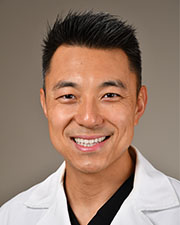 Dr. Zheng (Ben) Ma is a Houston native and completed medical school at Baylor College of Medicine where he graduated through the Healthcare for the Underserved Track, served as class president, and was awarded the Dr. Alexandra Greene National Medical Student of the Year Award from the Emergency Medicine Residents Association (EMRA).
Dr. Ma completed residency training at the Harvard Affiliated Emergency Medicine Residency at Massachusetts General Hospital and Brigham and Women's Hospital and served as chief resident. His team was recognized with an institutional 'Partners in Excellence' award for their redesign of multidisciplinary trauma activation and resuscitation protocols for their Level 1 trauma center.
Dr. Ma completed a fellowship in Emergency Department leadership and administration at Mass General Brigham where his projects aimed to streamline admission for critically ill patients in the ED, reduce time to antibiotic administration in sepsis, and optimize full capacity protocol during times of hospital overcrowding. His capstone project involved a detailed analysis of emergency care delivery services with care improvement recommendations for a rural region of the northeast.
Dr. Ma received additional training in value-based healthcare delivery from Harvard Business School, healthcare policy foundations from Partners Healthcare, and ED leadership and design principles from the International Emergency Department Leadership Institute. He holds a Master's in Healthcare Management (MHCM) from Harvard University.