Arvind Manisundaram, MD
---
Arvind was drawn to the plastic surgery program here in Houston for multiple reasons. The training appeared broad and diverse, encompassing the wide variety within plastic surgery. Additionally, all the faculty and fellows were extremely welcoming, and the fellows felt comfortable with their training that they could either go directly into practice or pursue any further fellowship of their choosing.
---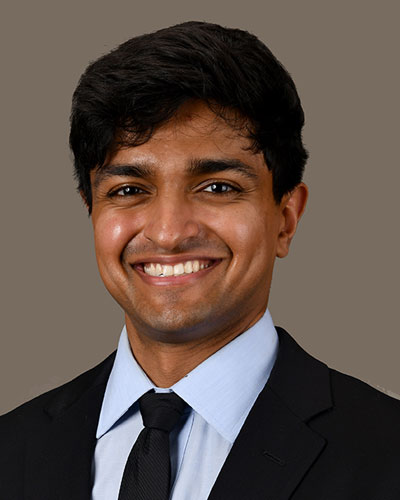 Undergrad – Rice University
Med school – UT Southwestern
General Surgery Residency – University at Buffalo
Awards:
University at Buffalo Department of Surgery Best Overall Resident Award – 2021
Worthington B Schenk Resident Teacher of the Year Award – 2021
Gold Foundation Humanism and Excellence in Teaching Award – 2020
Siegel Medical Student Teaching Award Honorable Mention – 2020
ACS National Surgical Jeopardy Competition 3rd Place – 2019
Publications:
Boyko T, Fontenot A, Manisundaram A, Burke M. Current practices in perioperative free flap anticoagulation and post-operative monitoring of microsurgeons in USA. Journal of Plastic, Reconstructive & Aesthetic Surgery: JPRAS. 2019 Dec;72(12):2064-2094.
Faust JE, Manisundaram A, Ivanova PT, Milne SB, Summerville JB, Brown HA, Wangler M, Stern M, McNew JA(2014). Peroxisomes are required for lipid metabolism and muscle function in Drosophila melanogaster. PLoS One 9, e100213.
PRS Interests: breast reconstruction, microsurgery, hand surgery, surgical education.
In his spare time, Arvind enjoys trying new foods in Houston, working out, and traveling.