Our Team
Faculty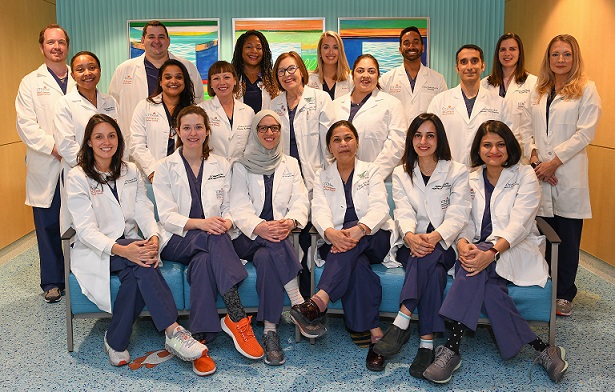 Maria Matuszczak, MD grew up in Germany, went to medical School in Belgium and later moved back to Germany for Anesthesia Residency and Pediatric Anesthesia Fellowship. Dr. Matuszczak has played an instrumental role in developing the Pediatric Anesthesiology department at McGovern Medical School/UT Houston with countless Quality Improvement Projects, Research, Publications and Initiatives to promote patient safety and resident/fellow education. A big proponent of faculty development and airway management, she loves teaching and her job. She is fluent in German, French and English. Outside work, Dr. Matuszczak plays piano recitals in large crowds and competitions. In spare time, she loves to ski, bake, read and travel.
---
Ranu Jain, MD is the Program Director of the Pediatric Anesthesia Fellowship Program and serves as the liaison between the fellows, faculty and institutional partners, while maintaining ACGME standards and compliance. She is very involved in the education of the fellows and residents.  Dr. Jain completed her medical school training in India and residency training at the McGovern Medical School. Dr. Jain has served in numerous leadership roles including: Assistant Director of the peri-operative services at Lyndon B Johnson hospital, Education Director of the Pediatric Anesthesia and the Director of Anesthesia for Fetal Medicine. Dr. Jain has a keen interest in the acute pain management and is the Assistant Director of the acute pain service at the Children's Memorial Hermann Hospital.  She is very active in the quality and safety initiatives within the University of Texas and Children's Memorial Hermann Health care systems. Dr. Jain is married and has one son.  Her interests include traveling, cooking, and spending time with family.
---
Sabina Khan, MD is a foreign medical graduate from Pakistan who completed her Anesthesiology Residency at University of Arkansas for Medical Sciences in Little Rock, Arkansas in 2014, followed by Pediatric Anesthesiology Fellowship at UT Houston/ McGovern Medical School in 2015.  After serving as a faculty member at UT until 2019, she worked for two years at the only Children's Hospital in the UAE before returning to UT as an Assistant Professor in 2021.
Currently, Dr. Khan is the assistant program director of the Pediatric Anesthesia Fellowship Program and is an active member of the Anesthesiology Perioperative Excellence Grand Rounds planning committee. She also serves on the Diversion and Inclusion Committee and is involved in the Society for Pediatric Anesthesia (SPA) and the Texas Society of Anesthesiologists (TSA). Dr. Khan is passionate about promoting an inclusive and safe environment where everyone is treated fairly and has equal access to opportunities.
Apart from her clinical interests in fellow education, workshops, patient safety and quality improvement projects, Dr. Khan is also involved in collaboration between institutions for various educational projects and community outreach initiatives aimed at teaching high school students about healthcare opportunities. She also supports the onboarding process for new faculty members.
Outside of work, Dr. Khan enjoys exploring Houston's diverse cuisine scene, traveling, and spending time with her family. She is proud to be a part of the UT work family and lives by the motto "Together Everyone Achieves More" (TEAM).
---
Lauren Brollier, MD was born and raised in Houston, Texas. Dr. Brollier went to medical school in San Antonio and completed her post graduate training at McGovern, where she discovered her love of pediatric anesthesia. Everyone always asks, 'What keeps you here?'  In short, the people. We have a truly fantastic team! McGovern has been the ideal place to grow as a young faculty – we work as a team and truly have fun together.
Her professional passions are education and educational leadership. She is an assistant program director of the residency program, focusing on senior resident education and mentorship. Her teaching philosophy is to support all learners in expanding their clinical skills, knowledge base, and professionalism to ensure McGovern Medical School trains the best physicians.  Dr. Brollier strives to lead by example as an exemplary physician mentor and leader, while maintaining her own professionalism development, current medical knowledge, and clinical practice standards. Dr. Brollier has been a receipt of the Dean's Teaching Award and acceptance to the McGovern Academy of Master Educators program.
Outside of work, she enjoys spending time with her husband and two young daughters. She loves trying new restaurants, traveling, and taking advantage of everything a big city offers!
---
Rhashedah Ekeoduru, MD is an academic Pediatric Anesthesiologist and a clinical medical ethicist and ethics consultant. Dr. Ekeoduru earned a BA in Chemistry with a Concentration in Global Development Studies from Grinnell College and her MD from Case Western Reserve University School of Medicine. She completed professional training at the University of Southern California (USC) and clinical ethics training at MD Anderson Cancer Center.
Dr. Ekeoduru serves as a faculty instructor for several ethics and professionalism courses at McGovern Medical School. She leads case-based discussions designed to promote dialogue and enhance medical student comprehension of ethical dilemmas. She also teaches ethics-based workshops and gives related lectures at the national level. Lastly, Dr. Ekeoduru is a mentor for medical students, residents, fellows, and junior faculty members. Her collaborative efforts with her students and colleagues have resulted in numerous publications, presentations, and invited speaking engagements. She has been recognized for her educational contributions by receipt of the Dean's Teaching Award and acceptance to the McGovern Academy of Master Educators program.
---
Amy Graham-Carlson, MD was born and raised in the suburbs of Houston. She went to the University of Texas at Austin for her undergraduate degree: Bachelor of Science in nursing. She worked as an ICU nurse for three years before starting medical school at UTHealth/McGovern Medical School. Her years as a nurse heavily influenced her choice of anesthesiology as her chosen specialty. Her love of children and the diversity of cases make pediatric anesthesiology the perfect fit for her. She went to Texas Children's Hospital, Baylor College of Medicine for her fellowship in pediatric anesthesia. Dr. Graham-Carlson returned to UTHealth to join as faculty after fellowship because she enjoyed the challenging clinical cases, teaching residents and other trainees, and felt that women were empowered to succeed in this department.
Her clinical interests are quality improvement in neonatal anesthesia, pediatric patient blood management, and pediatric sedation.
Outside of work, Amy enjoys spending time with her husband and three children. Additionally, she enjoys running, cooking, hiking in the Texas Hill Country, and sewing (an acquired Covid hobby).
---
Staci Cameron, MD grew up in Greenville, Texas.  She completed her anesthesiology residency and pediatric anesthesiology fellowship training at UT Houston. Dr. Cameron chose pediatric anesthesia because of her love for kids and the pediatric anesthesia team at UT.  Her clinical interests include pediatric neuraxial and regional pain procedures. She has done nationwide presentations and workshops on pediatric pain topics.
Outside work, Dr. Cameron enjoys cooking, playing piano, snow skiing, and spending time with her kids.
---
Nitin Wadhwa, MD was born in Delhi, India and moved to Houston, Texas when he was 10 years old.  He attended medical school at University of Texas Medical Branch (UTMB) in Galveston, followed by anesthesiology residency at Northwestern's McGaw Medical Center in Chicago, Illinois.  He returned to Houston to complete his pediatric anesthesiology fellowship at Texas Children's Hospital.  He has been faculty in the Department of Anesthesiology at McGovern Medical School since 2009.  Dr. Wadhwa takes great pride in taking care of pediatric patients and enjoys all aspects of pediatric anesthesiology.
In his free time, he enjoys spending time with family, traveling to new places, exploring different cuisines, and working out.
---
Jael Gijon Carbajal, MD moved to Houston, from Puerto Rico, when she was 6 years old.  She considers herself fortunate to do all her university and medical training in Houston.  Initially, she chose UT-Houston Anesthesiology for school and training because she wanted to stay in her hometown, near family.  Dr. Carbajal states, "I stayed in UT-Houston/McGovern to work because, deep down, I felt I belonged there".  Indeed, she considers her colleagues as being her work family.
When she is not caring for her pediatric patients, Dr. Carbajal enjoys reading, cooking, and spending time with her husband BJ and their 3 dogs and 1 cat.
---
Neale Clark, MD was born and raised in Austin and Fort Worth, TX.  He attended The University of Texas in Austin for undergraduate degree, prior to attending UT Houston medical school.  After venturing outside of Texas to spend three years of anesthesiology residency at Emory University, he returned to Texas, first to Dallas to complete pediatric anesthesiology fellowship at UT Southwestern, then back to Houston where his wife Haley is from. Dr. Clark immediately felt welcome and at home when he joined the UTH pediatric anesthesia team, due to being familiar with the program and some of the attendings a as a medical student. He values the passion that the team shares for clinical duties, taking care of  little patients, teaching residents and fellows, and especially the camaraderie we have amongst each other and the peri-operative team.
Outside of the workplace, he spends most of his free time with his family – wife Haley, and three children. Dr. Clark is also an avid film watcher/enthusiast/collector. His oldest passion is playing the piano, which he has been playing by ear since the age of 5.  Although he trained in classical piano as in younger years, he mostly keep up his skill playing popular tunes and jazz/blues standards on piano at home.
---
Ashley Upton, MD was born and raised in Houston, Texas. She attended medical school at UT Health McGovern Medical. Dr Upton completed her anesthesiology residency and pediatric fellowship training also at McGovern Medical. Dr Upton enjoys working with children and thus decided to pursue fellowship training in pediatric anesthesiology. Dr Upton decided to remain at UT because it is in the heart of the TMC and offers a variety of interesting cases and continued opportunity for growth.
In her free time, Dr Upton enjoys traveling with her daughter and spending time with family and friends.
---
Vishwas (Vish) Seshachellam, DO was born and raised in Sacramento, California. He went to medical school at Midwestern University in Glendale, AZ after which he completed anesthesiology residency at McGovern Medical School.  As a patient at an early age himself, he empathizes with pediatric surgical patients, influencing him to complete his fellowship training in pediatric anesthesiology at the Children's Hospital of Los Angeles. He proceeded to join as faculty where he trained, at McGovern Medical School as he enjoys giving back to the very program that raised him as a resident.
His clinical interests include clinical teaching of residents, fellows, and medical students in the operating room.
Outside of the operating room, he is a die-hard Sacramento Kings fan, enjoys golfing and likes to explore Houston's various food scenes with his wife.
---
Sherline David, DO went to UT Austin for undergraduation, Medical School at UNT Health Science Center at Fort Worth, and both Pediatric and Anesthesiology residencies at Baylor Scott and White in Temple, TX. She did her Pediatric Anesthesiology fellowship at UT Houston and stayed on as staff! Dr. David says," I love my job and so excited to see all the opportunities to come!"
Her passion has always been to work with kids! She was a pediatrician and now a Pediatric Anesthesiologist! Her passion is to handle difficult airway cases. The best part of her job is the people she works with! It is a big UT family!
---
Sarah Chehab MD grew up in both Dallas, TX and Lebanon. She went to medical school at Texas A&M, completed anesthesia residency at UTMB and Pediatric Anesthesia Fellowship at UTSW. Dr. Chehab chose pediatric anesthesia because it fits everything that she was looking for: vigilance, attention to detail, and building rapport with patients and their families in a short amount of time. It is also extremely rewarding to take care of children and be able to comfort them during some of the most stressful times in their lives. Dr. Chehab has also authored a pediatric handbook for the new rotating pediatric residents to help get acclimatize with the rotation.
Outside of work, she enjoys spending time with her husband and two cats, Bubby and Fluffy. She loves exploring Houston, trying new restaurants, and traveling.
---
Maura Livengood McKinney, MD was born and raised in Lockhart, Texas. She went to medical school at UT Houston. She completed her internship in General Surgery at UT Houston and Anesthesiology residency at Vanderbilt. Dr. McKinney fell in love with pediatric anesthesia because caring for children felt natural and rewarding to her. She completed her pediatric anesthesiology fellowship at Washington University in St. Louis where she stayed as a clinical instructor prior to starting at UT Houston. Her return to UT Houston felt like coming home.
She enjoys spending time with her husband and 2 children.
---
Greesha Pednekar, MD was born and raised in Mumbai, India, one of the busiest cities in the world. She completed medical training at Mahatma Gandhi Mission's Medical college in India. Having trained in both India and the United States, Dr. Pednekar was able to experience the best of both worlds. Choosing to pursue pediatric anesthesiology has been the best decision of her life as working with kids is always an immensely satisfying experience. She loved her time at UT as a resident and hence decided to come back after fellowship training to join the pediatric anesthesia faculty. Houston is one of the most vibrant and diverse cities and reminds her of home.
In free time, she loves exploring the museums and going for a walk on the bayou trails.
---
---
---
Certified Registered Nurse Anesthetists (CRNAs)

Alex Sackey, CRNA was born and raised in Ghana. He has lived most of his adult life in the U.S. His worn out cowboy boots are evidence of how long he has lived in Texas. Alex attended the University of Texas Health Science Center at Houston and Medical College of Georgia  School of Nursing Anesthesia. He is fortunate to be working with an awesome pediatric anesthesia staff. When he's am not administering anesthesia, he enjoy watching sports and listening to music.
---
David Tang, CRNA was born in Vietnam and left at two years old as refuge in 1978. He settled in Dallas, TX where he attended nursing school at UT Arlington and eventually nurse anesthesia at Texas Weslan University in Fort Worth. David enjoys pedi anesthesia because it requires careful attention and has great outcomes. Kids are fun to be around. He started 13 years ago with UT and loved the teaching aspect and wonderful people he works with.
Alex's home life consists of being a husband and father to two teenage girls. His interests include being active with basketball and traveling to experience different places. He could not have asked for any better outcome from his humble beginnings in war torn Vietnam.
---
Wonedwossen Goshu, CRNA is a native of Ethiopia. He received a Bachelor's Science degree with a Nursing major and Health Science minor from South Dakota State University, Brookings, SD. He earned a Master of Science in Nursing Anesthesia at Saint Mary's University of Minnesota, Minneapolis. He then graduated from the DNP program at the Rocky Mountain University of Health Professions. He is still searching for the truth.
---
Anesthesiology Assistants
Emily Mathuria, CAA grew up in Rome, Georgia and earned her Master of Science in Anesthesia from Nova Southeastern University in 2012. Emily has been with UTHealth since 2015 and truly believes in the UTHealth's commitment to excellence and responsible medicine. She loves helping children and putting their families feel at ease during the perioperative process. Her special interests are in education and patient safety.
Emily has 3 wonderful children and spends her time away from work enjoying the outdoors, traveling, and cooking.
---
Elizabeth Rugutt, CAA grew up in New England before moving to Texas where she completed her Bachelor degree in science graduating summa cum laude from the University of Texas of Permian Basin. She earned her Master of Science in Anesthesia degree from the Case Western Reserve University. Working at Memorial Hermann TMC allows her to realize her professional goal of taking care of children in need of anesthesia services.
Her other interest include reading, playing the piano, and developing her novice green thumb.
---
Ben Trieu, CAA was born and raised in Charlotte, NC. He went to AA school at Case Western Reserve University – MSA program in Washington, DC. Ben grew up in a house of four with his parents and one younger brother.
Ben chose to go into pediatric anesthesia because he likes the challenge of caring for such a wide spectrum of patients, some as small as 2kg to as big as 100kg+. He decided to join UT because Memorial Hermann Childrens  Hospital sees a wide variety of surgical cases that have high level of acuity. The thing that Ben enjoys the most about working at UT is the wonderful staff, from the preop and PACU nurses, to the scrub techs and OR nurses, as well as his fellow anesthesia staff.
Outside of work, Ben enjoys traveling golf, snowboarding, and rock climbing.
Staff Physicians