Specialty Groups
The Fetal Center: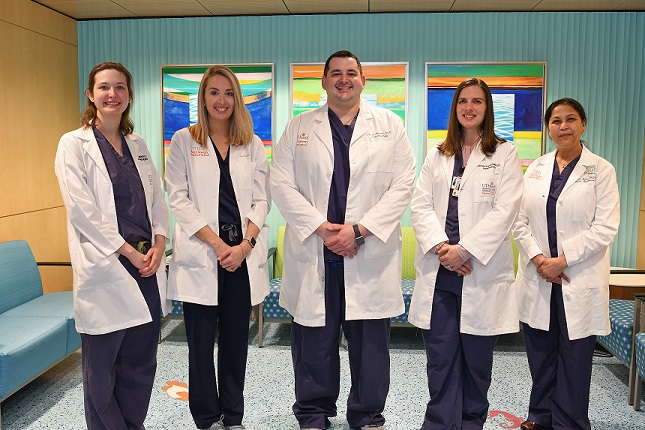 The Fetal Center at Children's Memorial Hermann Hospital is a national referral center and an international leader in fetal diagnosis, fetal intervention and comprehensive fetal care for infants with congenital anomalies or genetic abnormalities.
The Fetal Center currently receives patient referrals from 38 states and continues to serve as a leader in fetal diagnosis, fetal intervention and comprehensive fetal care for unborn babies with abnormalities.
The fetal pediatric anesthesia team provides safe anesthetic care to gravid patients including but not limited to placental laser ablation, twin to twin transfusion syndrome, EXIT Procedure, Fetal Congenital Cystic Adenomatoid Malformation (CCAM), in-utero Meningomyelocele Repair, Fetal Endoluminal Tracheal Occlusion (FETO) for severe CDH patients.
Interesting Fact:
Physicians affiliated with The Fetal Center at Children's Memorial Hermann Hospital were the first in Texas to perform open fetal surgery for the repair of myelomeningocele, in May 2011.
Since then, The Fetal Center has evaluated more than 315 patients for fetal spina bifida repair: 152 patients met criteria for fetal surgery and 111 patients elected to undergo open fetal surgical repair and 18 patients have elected to undergo fetoscopic surgical repair with a human umbilical cord as a meningeal patch.
The data below is an overview of The Fetal Center's clinical outcomes data for open fetal surgical repair from May 2011 – November 24, 2021.
Fetal Surgery for Spina Bifida Repair – Summary
| | | |
| --- | --- | --- |
|   | The Fetal Center Cohort (n=111) | MOMS Trial: Fetal Surgery (n=78) |
| Gestational Age at Surgery | 25.1 ± 0.5 | 23.6 ± 1.4 |
| Gestational Age at Delivery | 34.9 ± 3.2 (n=108) | 34.1 ± 3.1 |
| Perinatal/Neonatal Demise | 3 (3%) | 2 (3%) |
| VP Shunt at One Year | 16 / 40 (40%)* | 31 (40%) |
(The Fetal Center) Date range: May 2011 – November 24, 2021; N = 111 patients.
*Patients who underwent fetal intervention by our site and remained under our care locally.
Scoliosis Program:
The spine program at Children's Memorial Hermann Hospital is centered around perioperative management of pediatric spine conditions in children of all ages. We follow the ASA Perioperative Surgical Home model, where the patient's experience of care is coordinated by a physician-led, interdisciplinary team. The goal is to provide excellent patient experience by improving operational efficiencies, a reduction in length of stay, and a decrease in complication and mortality.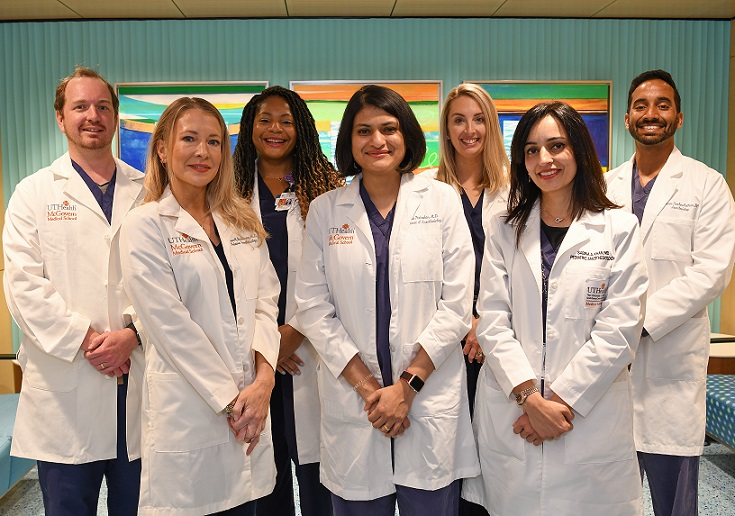 The Spine Pediatric Anesthesia team provides anesthesia care to cases including but not limited to Adolescent idiopathic scoliosis (AIS), Early onset scoliosis, Congenital scoliosis and Neuromuscular scoliosis. We meet with the
patients and their families ahead of the surgery to explain peri-anesthesia process and address their concerns and questions to alleviate worry and provide comfort.
Each Scoliosis patient is followed by acute pediatric pain management team for supra-optimal pain control.
Transplant Center:
The transplant Center at Memorial Hermann Hospital-Texas Medical Center is a regional and national leader in the field of transplantation providing life-restoring care to patients with end-stage organ failure.
Our transplant pediatric and cardiac anesthesia team provides state-of-the-art anesthesia care to the pediatric patients with end stage liver, kidney and cardiac disease.
Neonatal Intensive Care Unit (NICU):
The neonatal critical care services at Children's Memorial Hermann Hospital, include a 118 bed Level IV Neonatal Intensive Care Unit, the highest level of care available for premature and critically-ill newborns, as designated by the Texas Department of State Health Services (DSHS). Children's Memorial Hermann Hospital/ McGovern Medical School at UTHealth provides premature or critically ill patients with a full range of pediatric medical and surgical sub-specialists with 24/7 access to neonatologists. Through Memorial Hermann Life Flight®, our Level IV NICU has the ability to treat critically-ill neonatal patients transferred to our Level IV NICU, one of the biggest in Texas, from community hospitals across Greater Houston.
Our Pediatric Anesthesia Team is seasoned to provide anesthesia care to cases including but not limited to Necrotizing Enterocolitis, Tracheo-esophageal Fistula Repair, Meningomyelocele Repair, Ventriculoperitoneal shunts, Congenital Diaphragmatic Hernia (CDH) Repair,  Repair gastroschisis, omphalocele
Level 1 Trauma Center: with only center with 5 life flight ambulances. Well equipped with 24-hr trauma call.
The Children's Heart Institute: 
The Children's Heart Institute at Children's Memorial Hermann Hospital is named one of the top 25 hospitals nationally in Cardiology & Heart Surgery by U.S. News & World Report. It provides comprehensive care for newborns, children and adolescents, with a smooth transition into adult congenital cardiac care due to high-quality outcomes.
Our pediatric cardiac anesthesia Team utilizes the most advanced and evidence-based anesthesia techniques and services, to offer patients with the most complex problems, the greatest opportunity for a healthy life.
Acute Pain Service: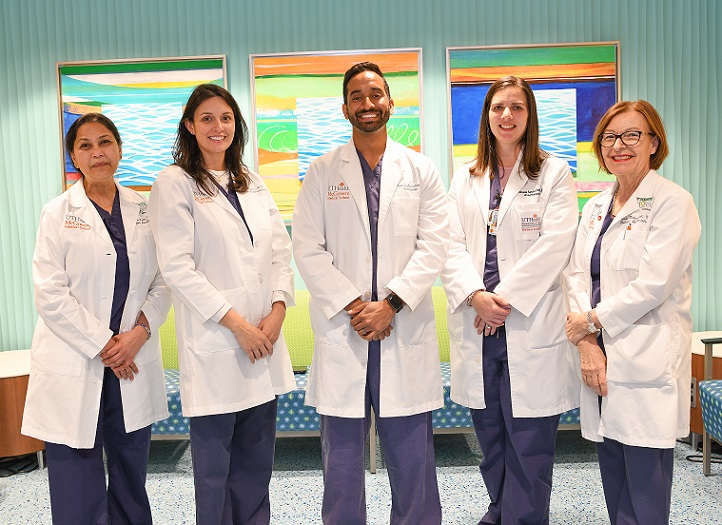 The acute pediatric pain management team provides care to patients of all ages. The team performs peripheral single shot, continuous nerve blocks, and neuraxial blocks. Burn pain management and Acute on chronic pain management i.e., sickle cell, trauma patients are also managed by the acute pain team. They are then referred to the chronic service if deemed necessary.
The fellows are trained to perform neuraxial and peripheral nerve blocks, single shots, and catheter placements. The fellows are also trained to order optimal doses of patient/nurse-controlled analgesia of narcotic infusion.
Preoperative Anxiety Alleviation Program:
Child Life and Expressive Therapies empower pediatric patients and their families when coping with challenging life events related to illness, injury and hospitalization.
CHMM's Child Life Team (Child Life Specialist, Music Therapist, Art Therapist) expanded to include a Music Therapist in February of 2009 and an Art Therapist in August of 2015, making our hospital the first in the Texas Medical Center to have both Child Life and Expressive Therapies under one roof.
By providing age-appropriate play and activities, specialists facilitate healing, coping, self-expression, creativity, and learning to patients and their families. Our specialists make every attempt to meet the emotional, developmental and psychosocial needs of all patients and family members, while building an understanding for the illness or injury and progression to an optimal level of wellness. Child Life is dedicated to helping children and families through:
Striving to normalize hospital experience for patients and families
Provide emotional support, therapeutic play, positive interactions, developmental interventions and recreational opportunities
Supply information about medical and surgical procedures at an age-appropriate level
Help children and their families prepare for procedures
Support physicians and nurses during producers by providing distractions to patients
Facilitate hospital and homebound school services
Plan holiday and seasonal activities for hospitalized children
What Is a Facility Dog?
A facility dog is a specially trained dog who partners with a facilitator working in a professional setting, such as a hospital. The facilitator brings the dog to work Monday – Friday, and takes the dog home at the end of each work day.
Facility Dog or Therapy Dog: What's the Difference?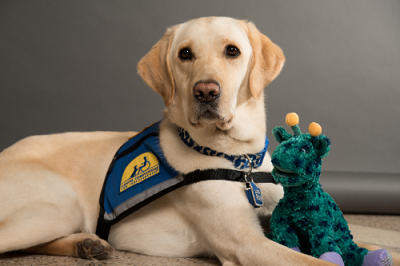 Therapy dogs can be any pet dog that has passed a basic obedience test.
Facility dogs undergo a two-year, extensive and specialized training program. Together, with their facilitator, this team works with patients to meet specific, individualized goals.
Diversity, Equity, and Inclusion (DEI):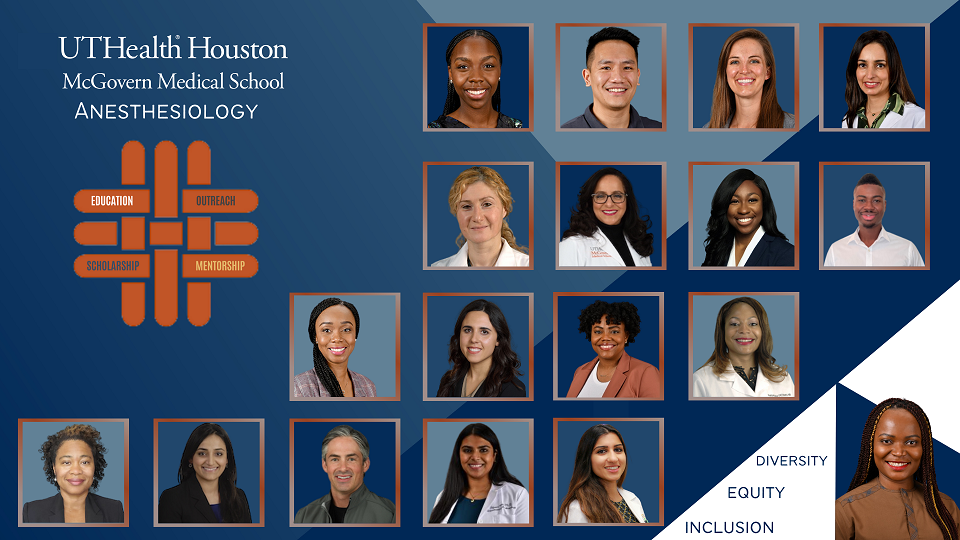 Department of Pediatric Anesthesiology is proud to be a part of Department of Anesthesiology Critical Care and Pain Medicine – McGovern Medical School/UT Health, which is a strong proponent of addressing and mitigating the disparities in the health care system.
The mission of DEI Committee is to foster an inclusive community for trainees, faculty and staff where everyone feels like they belong, are engaged and productive.
It is also to create academic opportunities and provide mentorship where clinical, educational, and scholarly excellence is maintained by recruiting, retaining, and maximizing the talents of a diverse group of individuals.
We have been dedicated to initiatives in the areas of inclusivity, education, mentorship, scholarship, and community outreach. These projects promote cultural competency, empathy, and a welcoming work environment for all.
In addition, as vital contributors to medicine and academia, we understand the importance of issues such as diversity related influences on healthcare and the need for opportunity and equity in education. The sum of these ideals forms the inspiration for our team's efforts.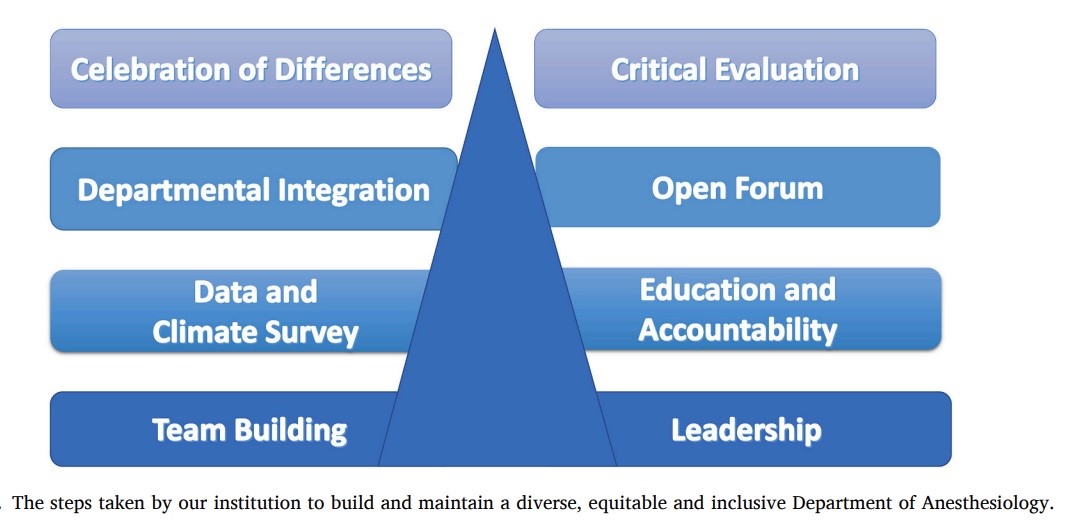 Past and present noteworthy projects include the following:
Events, announcements, and newsletters that promote cultural awareness.
Scholarly presentations and discussions regarding healthcare disparities and the role of diversity in medicine.
Activities that support departmental cohesiveness such as Simulation for Families.
Annual Diversity Jeopardy games.
Community outreach programs to local high schools where we introduce students to the career pathways of anesthesia with the intent of creating a diverse pipeline to our profession.
Mentorship Program
Pictures of Community Outreach Projects: