Chief Residents' Message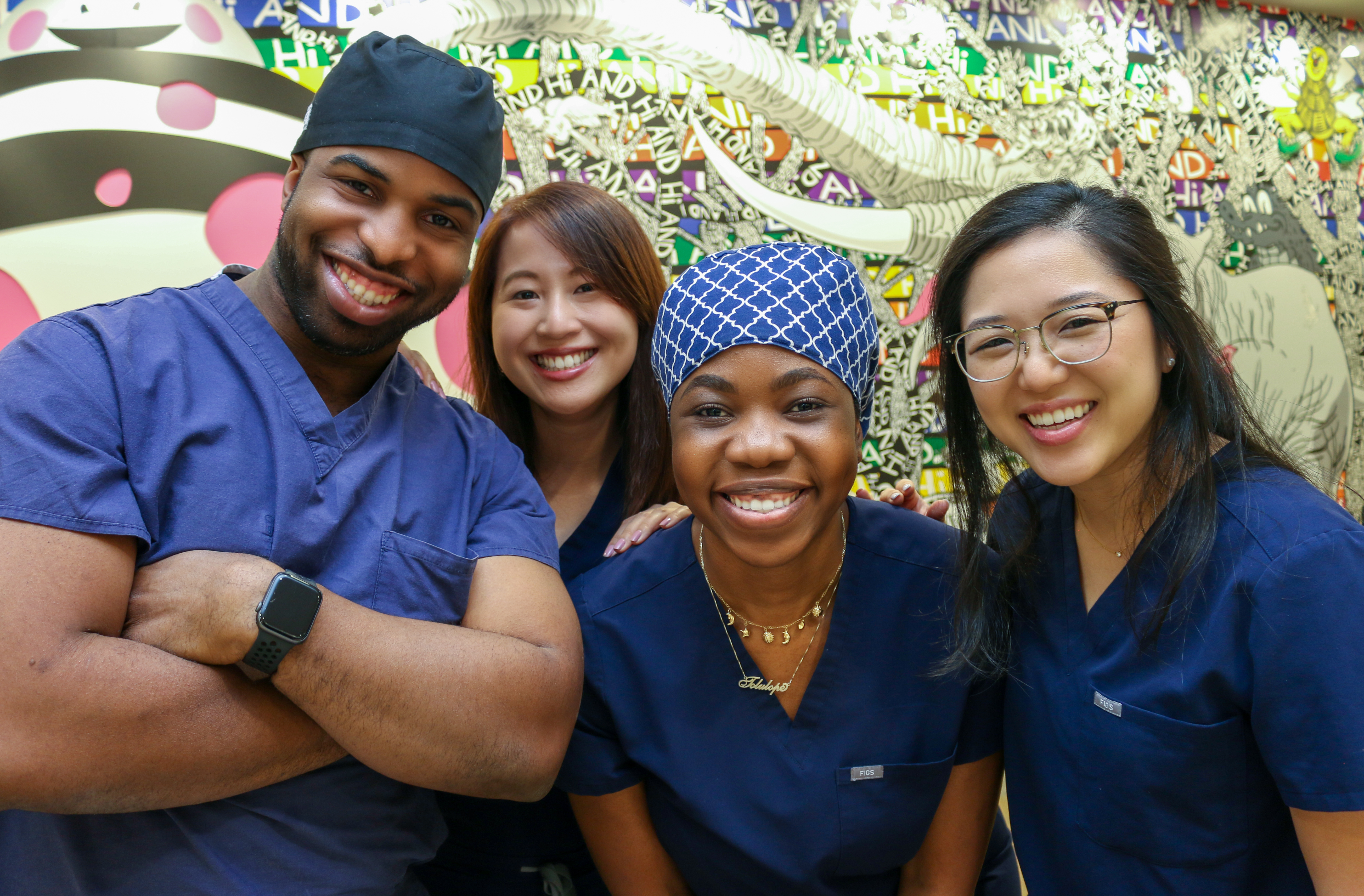 Chief Residents, Class of 2021-2022 (from L to R): Adam, Vanessa, Tolu, and Stephanie
Welcome to the Department of Anesthesiology at McGovern Medical School, UTHealth!
We are excited to share with you the amazing qualities that make our program unique and the reasons why we take pride in our residency community and experience.
During residency here, you will experience high acuity cases as well as diverse and challenging scenarios from which you will be able to develop both the technical and the critical decision- making skills to provide exceptional care to any type of patient. Under the guidance of our experienced and diverse faculty, you will participate in the care of patients with unique and rare diseases, penetrating and blunt trauma, extensive cardiovascular or pulmonary disease, cancer, neonatal complications, difficult adult and pediatric airways, complicated obstetric history and acute perioperative and chronic pain (to name a few!). Our training takes place at two main locations: Memorial Hermann Hospital (Level 1 trauma center and busiest trauma center in the nation), Children's Memorial Hermann (Level 1 trauma, level 4 NICU), Memorial Hermann Heart and Vascular Institute, and Lyndon B. Johnson Hospital (a community hospital in northeast Houston).
Our location in the Texas Medical Center, the largest medical center in the world, definitely has its perks. Our affiliations with different institutions allows you to experience the practice of anesthesia in very diverse settings, ranging from large academic centers, small private practices,  and hospital systems dedicated to the underserved, to internationally-recognized cancer and children's hospitals (Texas Children's Hospital, M.D. Anderson Cancer Center, Houston Methodist DeBakey Heart and Vascular Center) and even rural hospitals in other countries!
If you've never visited, we can tell you that Houston is one of the largest and most diverse cities in the country. The fantastic food scene and affordable cost of living provides an ideal location for young professionals, as well as growing families. Reflecting the characteristics of our city, diversity is also one of the core values of our department. The Department of Anesthesiology has shown its commitment to fostering and supporting an environment of diversity and inclusion by incorporating these values into our curriculum, wellness, and celebrating the diversity within our leadership, staff, and residency.
Our educational experience includes a dedicated education day per month, physical and electronic board prep resources, access to state-of-the-art simulation technology, and ample opportunities to participate in both basic science and clinical research. During our didactic days, we participate in lectures provided by seasoned educators, hands-on workshops, TEE and bronchoscopy simulators, in addition to oral board practice with ABA oral board examiners.
We are tremendously proud of our training with graduates who pursue both private practice and fellowships at distinguished institutions. We have a big family at UTHealth but our tightly knit community is obvious wherever we hang out, whether in the OR lounge or at a Houston brewery. Selecting the right program to complete your anesthesiology residency can be a challenging task especially with the current pandemic changing the way interviews are conducted today. We hope to be helpful throughout the process. Feel free to reach out to us directly and check us out on social media @uthanesresidency!
Sincerely,
Adam, Stephanie, Tolu, Vanessa
UTH Chief Residents, 2021 – 2022