M. Agustina Rossetti, PhD
Clinical Neuropsychologist
Assistant Professor
Department of Neurology
McGovern Medical School, UTHealth
M. Agustina Rossetti, Ph.D., is a clinical neuropsychologist and assistant professor of neurology at McGovern Medical School at The University of Texas Health Science Center at Houston (UTHealth).
Dr. Rossetti conducts comprehensive neuropsychological evaluations in both English and Spanish with clinical populations including dementias (e.g., Alzheimer's disease, vascular dementia, Lewy body dementia, frontotemporal dementia), movement disorders (e.g, Parkinson's disease, Huntington's disease), epilepsy, demyelinating disorders, neurological injury, psychopathology, toxic-metabolic disorders, and other neurological conditions. She also conducts capacity evaluations and assessments related to memory complaints associated with normal cognitive aging.
Dr. Rossetti strives to provide a positive atmosphere, patient-centered care, and an overall comfortable and supportive experience.
Education/Training
Graduate School
University of Miami, 2015
Fellowship
Michael E. DeBakey VA Medical Center , 2017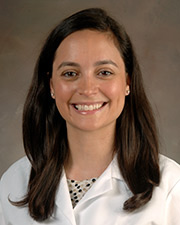 Dr. Rossetti Sees Patients at:
Neuropsychology Clinic
1941 East Road, Suite 4358
Houston, Texas 77054
(713) 486-0500
(713) 383-1435 (fax)