Krishanthan Vigneswaran, MD
Neurosurgeon
Assistant Professor
Vivian L. Smith Department of Neurosurgery
McGovern Medical School, UTHealth
Dr. Krish Vigneswaran is a fellowship-trained neurosurgeon with expertise in spine surgery and neurosurgical oncology. He focuses on the surgical treatment of patients using the latest neurosurgical tools and works closely with neuro-oncologists and radiation oncologists.
Dr. Vigneswaran earned his bachelor's degree in neuroscience and English at Vanderbilt University in Nashville, Tennessee, graduating magna cum laude with research honors. He received his medical degree at UT Southwestern School of Medicine in Dallas with distinction in research, and was inducted into Alpha Omega Alpha Honor Medical Society. He completed residency training in neurological surgery at Emory University School of Medicine in Atlanta, and subsequently completed a fellowship in neurosurgical oncology at The University of Texas MD Anderson Cancer Center in Houston.
While at Emory University as a resident, Dr. Vigneswaran received an NINDS R25 Research Education Grant and a Neurosurgery Research and Education Foundation Research Fellowship to study new drugs to treat glioblastoma and conduct clinical trials. He is the author of numerous peer-reviewed journal articles and abstracts, has presented research at national and international conferences, and has written
book chapters.
Dr. Vigneswaran has extensive experience in elective spine surgery and is an expert in treating degenerative spine conditions with minimally invasive techniques.
In addition, Dr. Vigneswaran has special expertise in benign and malignant tumors of the brain and spine, using stereotactic neuro-navigation, intra-operative brain mapping, awake craniotomies, fluorescence-guided surgery, endoscopic surgery and other tools to provide safe resection of tumors. These tools allow for custom surgeries that target lesions with precision and help patients recover faster.
Collaboration with Referring Physicians
Physicians affiliated with UTHealth Neurosciences engage referring physicians in the care of their patients, keeping them informed about patient progress throughout the evaluation and treatment process. After a patient's treatment, referring physicians receive a summary and a plan for follow-up. They encourage continued communication about each patient.
Education/Training
Medical School
University of Texas Southwestern Medical School
Residency
Emory University
Fellowship
University of Texas MD Anderson Cancer Center
Presentations
UTHealth Neurosciences pain management specialist Dr. Hiral Patel and neurosurgeon Dr. Krish Vigneswaran discuss the causes of lower back pain and different medical treatment options for it.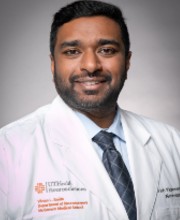 Dr. Vigneswaran Sees Patients at:
UTHealth Neurosciences-Southwest
7777 SW Freeway, Suite 840
Houston, TX 77074
(713) 486-8080
fax: (713) 486-8090
UTHealth Neurosciences-Sugar Land
17520 W Grand Parkway South, Suite 450
Houston, TX 77479
Phone: (713) 486-7800
Fax: (713) 486-7830